more news
Internship and Job Fair today for students, alumni
Wednesday, September 29, 2010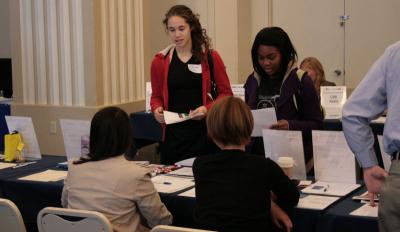 All current students and alumni are invited to attend the 2nd Annual Internship and Job Fair on Wednesday, Sept. 29. More than 70 employers have registered to participate.
The event runs from 11 a.m. to 3 p.m. in the Lawrence Hall ballroom, third floor, and the Lawrence Hall Commuter Lounge, fourth floor.
Please come prepared with copies of your resume and business casual attire. Free refreshments will be provided.
The Internship and Job Fair is presented by Point Park's Office of Career Development.
Photo: Students talk with prospective employers at last year's Internship and Job Fair.