more news
Joann K. Falbo Featured Artist in the Lawrence Hall Gallery
Monday, May 20, 2013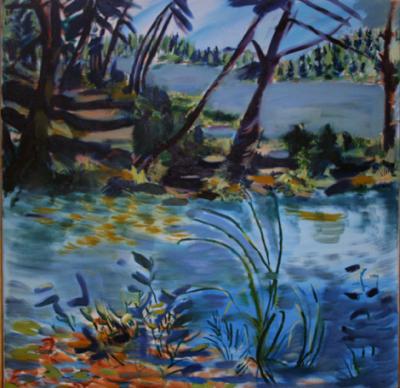 The Lawrence Hall Gallery at Point Park University will host a new exhibition featuring the work of artist and Pittsburgh native, Joann K. Falbo. The exhibit, "A Life Lived Artfully," will be on display beginning May 25, 2013 through the summer.
Falbo developed a deep love and appreciation for painting during her youth through summer art classes offered at Carnegie Tech, now Carnegie Mellon University. During Falbo's senior year studying painting at Richmond University, now Virginia Commonwealth University, she was encouraged to enter into a scholarship competition for a master's of fine art at Yale University. She won the scholarship and was the only woman among a class of 20 students.
Upon graduation, Falbo remained in New England. She found joy in teaching art and painting in a small studio. In addition to her work as an artist, the late Falbo was a visual therapist who was successful in assisting people who suffered visual difficulty not typically addressed in optometry.
Joann's brother, Ralph Falbo has left his mark on revitalizing Downtown Pittsburgh with exciting developments like First Side and his work with organizations like Riverlife. The work and vision of people like the Falbos is what motivates the Point Park community to make neighborhood connections and provide interesting public spaces, including the Lawrence Hall Gallery.
This exhibit at Lawrence Hall Gallery is free and open to the public Monday through Thursday, 8 a.m. - 9 p.m., and Friday and Saturday 8 a.m. - 6 p.m. For more information, call the Lawrence Hall Gallery information line, 412-392-8008.