more news
Joyce Werwie Perry Latest Artist Featured in the Lawrence Hall Gallery
Tuesday, September 24, 2013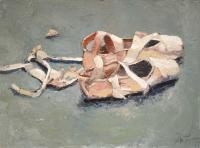 The Lawrence Hall Gallery at Point Park University will host a new exhibition featuring the work of artist and lifelong Pittsburgh resident, Joyce Werwie Perry. The exhibit, simply titled DANCE will be on display beginning Oct. 10, 2013 through spring 2014.
DANCE is a collection of paintings depicting the beauty, passion and movement of dance through Perry's observation of Point Park University's dance classes and performances. The artist's unique knife painting technique in thick, brightly colored oils comes through in a broad range of styles for this exhibit.
Perry is the owner of le Poire Fine Art Studio where she paints and teaches her knife technique to a school of oil painters. She is on the teaching staff at Sweetwater Center for the Arts near Pittsburgh and holds workshops in various locations in the tri-state area.
Perry's work is featured in numerous private and corporate collections including PNC Corporate Offices and Westmoreland Museum of American Art's permanent collection. She has exhibited work at Carnegie Museum of Art and The Andy Warhol Museum in Pittsburgh, Pa., National Arts Club in New York City, Wichita Center for the Arts in Wichita, Kan., and T. Botero Galleries in Atlanta, Ga.
She is a member of the Associated Artists of Pittsburgh and is the former vice president and exhibition chairperson for the organization. Learn more about Perry and her work at www.le-poire.com.
This exhibit at Lawrence Hall Gallery is free and open to the public Monday through Thursday, 8 a.m. - 9 p.m., and Friday and Saturday 8 a.m. - 6 p.m. For more information, call the Lawrence Hall Gallery information line, 412-392-8008.