more news
Lawrence Hall Gallery Exhibiting Work of Lynn Fero
Wednesday, October 17, 2012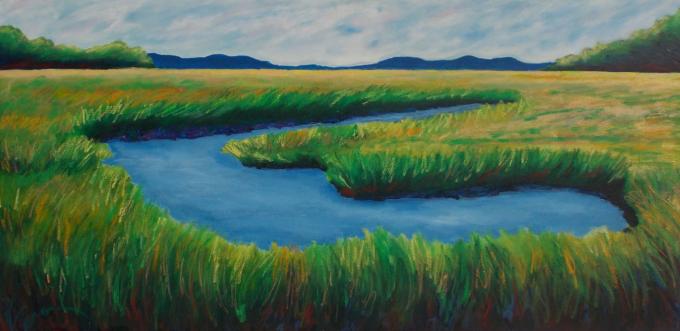 Essex Marsh by Lynn Fero
The Lawrence Hall Gallery at Point Park University has a new exhibition featuring the work of renowned artist and Point Park alumna, Lynn Fero. The exhibit, "Landscape Expressions," will be on display beginning October 19, 2012 through March 2013.
Lynn Fero is a nationally known expressionistic landscape painter. Her paintings have appeared in over 50 national juried exhibitions including in New York at the National Society of Painters in Acrylic and Casein and Audubon Artists, Los Angeles at the Los Angeles Art Association national exhibit "Brush Strokes" and "Valley Visions" by the San Fernando Valley Arts Council, and Chicago at the National Chapter of the Women's Caucus for Art in their 25th Anniversary exhibition, "Carving the Forces of Change." Her paintings were also in the feature film, "Kiss the Girls."
In Pittsburgh, Fero has shown with the Box Heart Gallery in Bloomfield. There she won Best of Show and was the Artist of the Year in 2004. She has also been included in the national juried arts competition at the Three Rivers Arts Festival as well as the first national pastel show held at La Fond Gallery in the South Side.
In addition to her career in fine art, Lynn Fero is currently celebrating 30 years with CBS Television Distribution where she is currently Senior Vice President of Business Affairs Administration and Product Rights Management. She began with parent company Viacom International in New York City in 1982 and
was later transferred to Paramount Pictures in Los Angeles. She has been with CBS for five years since being reassigned there after Viacom split into two corporations (VIA and CBS) in 2005.
This exhibit at Lawrence Hall Gallery is free and open to the public Monday through Thursday, 8 a.m. - 9 p.m., and Friday and Saturday 8 a.m. - 6 p.m. For more information, call the Lawrence Hall Gallery information line, 412-392-8008.