more news
New exhibit by Pittsburgh artists featured in Lawrence Hall gallery
Friday, October 10, 2014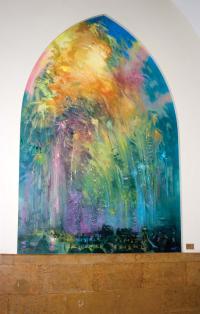 A new exhibit highlighting three Pittsburgh artists is on display at Point Park University's Lawrence Hall Gallery.
"Pittsburgh Impressionism: Past, Present, Future" focuses on three artists whose work is a testament to the popular style of impressionism. The exhibit includes the traditional paintings of Frank DeAndrea (1922-2006), the modern works of Philip Salvato and the contemporary pieces of Kim Curinga.
DeAndrea, a World War II veteran who began his career as an artist at the Pittsburgh Sun-Telegraph, made his name designing and painting church and school murals, according to the Pittsburgh Post-Gazette. Two of his industrial paintings hang in the Duquesne Club.
Salvato has been a professional painter for 45 years, working in commercial studios in Detroit and Toronto, along with Pittsburgh. His 3rd Street Gallery is located in Carnegie.
Curinga has had artwork featured in galleries and at festivals all over Pennsylvania and in California, Maryland, Virginia, Ohio and New Jersey.