more news
New Mural Energizes Lawrence Hall Staircase
Monday, May 13, 2013
When students, faculty and visitors walk up the historic stone steps in the lobby of Lawrence Hall, they can now enjoy the view of a bright new mural on the landing.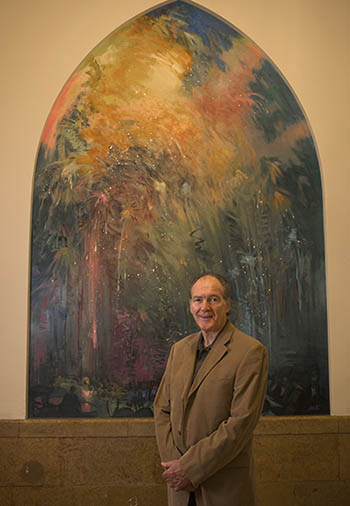 Created by Pittsburgh artist Philip Salvato, the mural fits into a large, arch-shaped niche that is original to the building. It depicts vibrant, free-flowing colors representative of fireworks. An orchestra is depicted at the base of the painting.
"I thought it would be great to give students and others who are climbing those stairs a bright and colorful image to help energize the climb," says Salvato, who says the concept for the mural came to him as he was driving across the Ft. Pitt bridge toward Pittsburgh's famous skyline and Point Park's Downtown campus.
The idea to commission a mural for Lawrence Hall was initiated by the Student Government Association under the leadership of former President Ian Sulkowski, who received his bachelor's degree in global cultural studies on May 4 at the 2013 commencement. President Paul Hennigan was enthusiastic about the idea and joined with University Trustee and art collector Jack Tomayko in convening a committee to evaluate mural proposals.
"The dialogue leading to the selection of Phil's submission, which was quite different from some of the other Point Park-specific mural ideas, was interesting," said Tomayko, who has coordinated many exhibitions for the nearby Lawrence Hall Gallery. "For example, [architect and University Trustee] Dennis Astorino remarked that because the mural occupies a common area, as opposed to a specific campus building, it should be art for art's sake. Everyone gravitated to this piece."
Tomayko, Salvato and Sulkowski were all present to observe the mural's installation on April 29, just prior to commencement. Salvato appreciated the opportunity to help illustrate the University's creative environment. "I have enjoyed watching Point Park evolve," he said.
According to Sulkowski, who is the son of artist James Sulkowski, "It's great to have students play a role in creating campus art."