more news
New Students Welcomed to Point Park at Convocation
Friday, August 17, 2012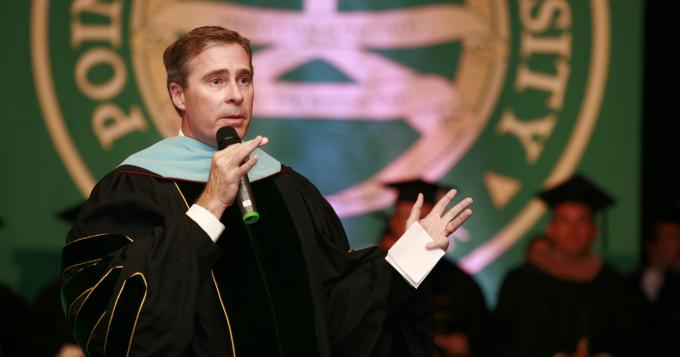 Nearly 800 incoming freshmen and transfer students are arriving at Point Park University next week. As part of their official welcome to campus, these students will attend Convocation on Aug. 24 at the Sheraton Station Square. Convocation is the ceremony that opens the academic year and offers new students an opportunity to meet and speak to fellow classmates, faculty, University leadership and alumni.
Paul Hennigan, Ed.D., president, will welcome students. Karen McIntyre, Ph.D., senior vice president for academic and student affairs, will introduce faculty leadership. Ian Sulkowski, senior global cultural studies major and president of United Student Government, will offer words of wisdom about the Point Park collegiate experience.
The program will also feature a presentation from Michael DeCourcy, a 1981 graduate of Point Park University with a degree in journalism and communications.
DeCourcy has spent the last 12 years as Sporting News' college basketball columnist, following newspaper stints at the Pittsburgh Press (1983-93), the Memphis Commercial-Appeal (1993-97) and the Cincinnati Enquirer (1997-2000). He also is an analyst on the Big Ten Network and can be heard year-round as a frequent guest on sports radio stations coast-to-coast. He has covered 23 Final Fours, more than 20 world championship fights, the Summer Olympics in 1992 and 1996, and two national championship college football games.
The United States Basketball Writers Association recognized his work by inducting him into its Hall of Fame in April 2012.
DeCourcy offers the students attending Convocation a rich and compelling background in sports reporting and a comradery as a Point Park alumnus.
The program will begin at 2:45 p.m. and will be followed by a light reception for students, faculty and staff.