more news
On Veterans Day, Point Park gives thanks to those who have served
Wednesday, November 11, 2015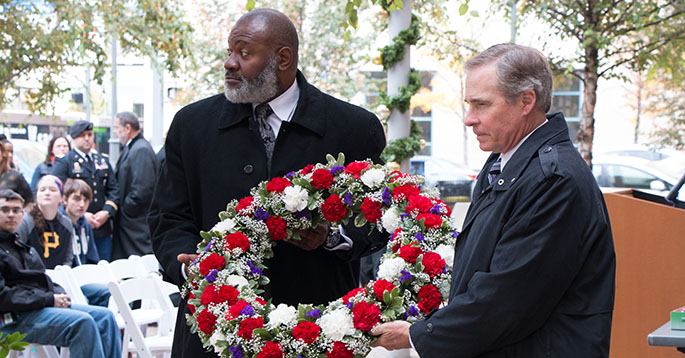 Rep. Jake Wheatley and Point Park President Paul Hennigan carry a wreath at the University's Veterans Day ceremony.
When Jake Wheatley was 17 years old, he had no idea what he wanted to do with his life.
Watching television in his mother's living room one day, he saw an ad for the U.S. Marine Corps and called the 1-800 number. By the end of the day, he had visited the Marines recruiting office, taken the entrance test, and chosen his job specialty - communication specialist.
Wheatley, now a Pennsylvania state legislator representing the 19 th District, served 3 ½ years in the U.S. Marine Corps, becoming a decorated combat veteran of Operation Desert Storm in Iraq.
Wheatley recounted his experience in the military at Point Park's second annual Veterans Day observance, held Nov. 11 in the University's Village Park. Wheatley's district includes Downtown Pittsburgh, and he also serves on Point Park's Board of Trustees.
The University currently has about 150 veterans and military personnel enrolled in undergraduate and graduate degree programs, with many making use of veterans benefits. The Student Veterans Association of Point Park provides information, mentoring, networking and leadership development to military veterans on campus.
At the ceremony, Dean of Students Keith Paylo welcomed those gathered, and an R.O.T.C. color guard presented the American flag with precise maneuvers. Point Park junior Paul Hambidge, a musical theatre major from Rockledge, Fla., sang The Star-Spangled Banner in a rich baritone that carried through the cool morning air.
Wheatley began his talk began by asking all veterans present to stand.
"I wanted to say right off the bat, thank you for your service," he told them. "I want to make sure you understand that even though sometimes it may not look that way or feel that way, we as a country owe you a great debt of gratitude for all you have done to provide the freedoms that we enjoy each and every day."

He said his own years in the Marine Corps gave him a new perspective on what it means to be an American.

"That experience took a 17-year-old who was clueless, who had no discipline, had no understanding of a commitment to a country, who had no understanding of the history of the sacrifices that had gone before ... I was forever changed in my belief in this country, and all the men and women who have sacrificed for what I was enjoying. I had a new appreciation for why we call ourselves Americans."
Following Wheatley's remarks, about 20 veterans in attendance - including Point Park students, faculty and staff - stepped forward to receive red, white and blue lapel ribbons.
Wheatley and Point Park President Paul Hennigan placed a wreath of red, white and blue flowers in front of the Village Park waterfall. Hambidge played taps on his trumpet to end the ceremony.
Photos by Courtney L. Giles, junior photojournalism major
More About: musical theatre, veterans