more news
Osteria 100 offers new dining option for Downtown community
Wednesday, July 25, 2012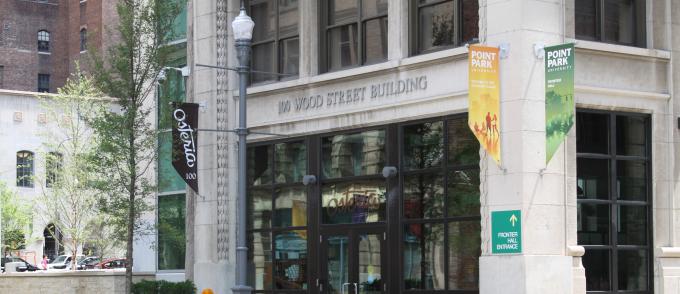 Osteria 100 provides delicious new opportunity for Downtown diners and student employees
With its shaded outdoor tables situated next to a bubbling fountain, Osteria 100 shares many qualities with its original inspiration - the small cafes that line the plazas in the villages of Italy.
Located at Wood Street and the Boulevard of the Allies, the new restaurant is the latest addition to Point Park's Academic Village, part of the new Village Park that officially opened last September.
Osteria (pronounced O-sta-REE-a) refers to a casual Italian eating establishment, similar to a tavern but less formal than a ristorante or trattoria, that offers seasonally prepared dishes featuring local ingredients. Signature dishes at the new café include house made fresh pastas such as gnocchi and riccolina, as well as handmade pizzas, sandwiches and salads.
Surrounded by a canopy of trees, colorful flowers, a colonnade and a distinctive glass stair tower and fountain, the restaurant borders the south edge of the Park. Design considerations for the restaurant and Park included making both "transparent" to each other. The large windows along the Park open in mild weather to provide view and ventilation to the restaurant. At night, the lights of the cafe act as a draw for activity.
At your service
Manager Jayson Marshall has high praise for the wait staff, the majority of who are Point Park students - many from the Conservatory of Performing Arts. "Our student servers have great personalities, and that's something that can't be taught," he said. "As a manager, I certainly appreciate our personable servers and it's real asset for our customers."
"I love working here," says junior acting major Alexis Cash, who likes both the convenience and the food at Osteria 100. "I live in the residence hall right next door, so this is a great employment opportunity here on campus."
Cash says she appreciates having interesting dining options, beyond fast food, in the immediate neighborhood. "The atmosphere is a bit more upscale, yet the food is affordable. I think it's very appealing to students and others in the local community."
Senior photojournalism major Kristina Alvarez, who works the lunch shift about three days a week, agrees. "I have tried just about everything on the menu and I think the food is great," says Alvarez. "It's a good alternative for campus dining."
Alvarez says the job has also afforded many opportunities to meet new people, from fellow student servers to visitors from neighborhood offices.
Photo by: Kristina Alvarez