more news
PennDOT Secretary Visits Point Park, Learns Progress of Wood Street Corridor
Friday, January 13, 2012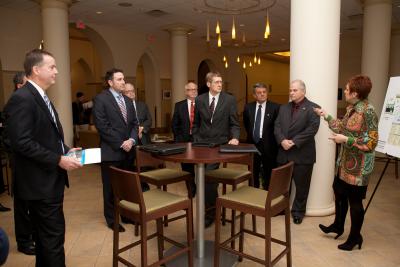 On Wednesday, Jan. 11, 2012, Point Park University and its community partners involved in the Academic Village Initiative had an opportunity to update Secretary of Pennsylvania Department of Transportation (PennDOT) Barry Schoch, P.E. and PennDOT District Executive Dan Cessna, on the progress of the Wood Street Corridor development project that is part of the Academic Village Initiative.
The Academic Village Initiative is a $240 million academic and economic development project that is reshaping this important corridor that connects the University campus with other key points in Downtown Pittsburgh.
The Wood Street Corridor project is made possible through design dollars from The Heinz Endowments and a $3.95 million grant from the Pennsylvania Community Transportation Initiative (PCTI) for construction of the corridor.
Now at the half way point, the project involves milling and paving the street surface, providing new pedestrian-friendly lighting, new trees, new sidewalks, granite curbs, improving accessibility with new tactile surfaces along the sidewalks and boosting pedestrian safety with new traffic signals and timed crossing devices at intersections.
The project is expected to be completed in the late spring or early summer of 2012.
Also participating in the review were partners from Point Park, City Department of Public Works, State Representative Paul Costa (D-34), State Representative Joe Markosek (D-25), Gary DeJidas, President and CEO of GAI Consultants and John Coyne of GAI Consultants.