more news
Pennsylvania Association of Broadcasters Extends Scholarship Offerings to Point Park University Students
Thursday, December 15, 2022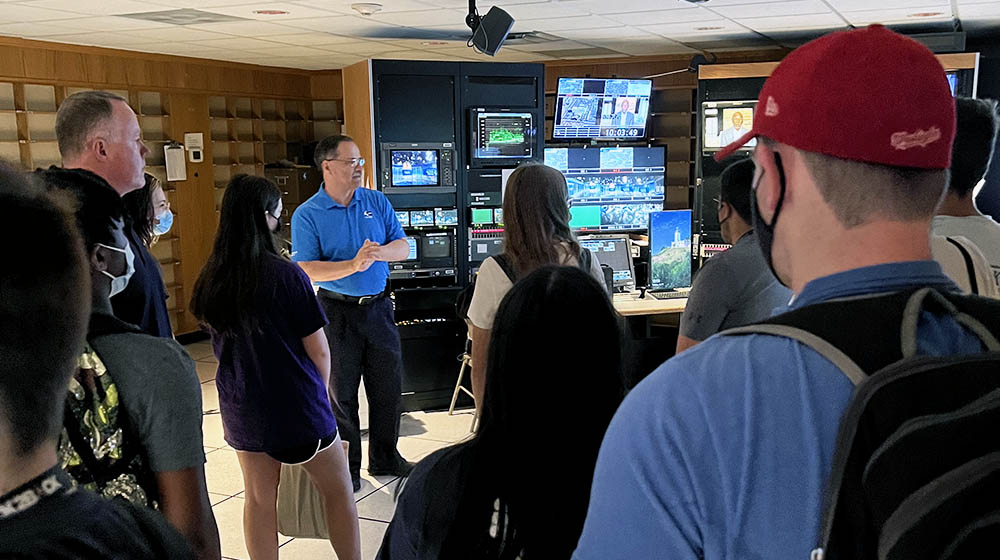 WTAE General Manager Chuck Wolfertz and Chief Engineer Paul Nowakowski show students the feeds and functions in the control room at the 2022 PAB Radio/TV Broadcast Camp. 
The Pennsylvania Association of Broadcasters has extended its partnership with Point Park University to offer $18,000 towards scholarships for another year. 
The scholarships are available to five first-year incoming School of Communication students from Pennsylvania and four current Rowland School of Business students who have an interest in radio or TV broadcast media and demonstrated financial need. 

"The PAB scholarships will provide approximately $2,000 per recipient to our students from Pennsylvania interested in broadcasting careers," said Bernie Ankney, Ph.D., School of Communication dean.  
Ankney added: "It gives students some additional financial support to pursue an excellent broadcasting education at a reasonable cost. It's a terrific scholarship for students who plan to pursue a broadcasting, sports communication or digital journalism degree at Point Park."
In addition, the PAB will provide $9,000 towards High School Media Day with a Future of Broadcasting session, recognition of PAB scholarship recipients, a Sports, Arts & Entertainment Career Fair with PAB involvement and a broadcast media summer camp for high school students.
In Their Own Words: Hear From PAB Scholarship Recipients
"Receiving the PAB scholarship has already provided me so many opportunities to learn about the industry. Point Park offers so many student media and organizations that allow us to be active in our majors and prepared for our careers." — Jillian Musser, a double major in broadcasting and cinema production from Cocalico Senior High School in Denver, Pa.
"The PAB scholarship has alleviated my financial burden. Being able to attend a school that presents me with a plethora of opportunities and pushes me to go above and beyond is something I am eternally grateful for. I am proud to say that the PAB is now a huge contributor to my academic and professional achievement as well."— Autumn Ashbaugh, a sports, arts and entertainment management major from Kiski Area High School in Apollo, Pa.
"The PAB scholarship is helping me achieve my career goals by providing financial help toward my intended degree. I hope to obtain my degree with the least amount of debt possible so that I can have financial freedom in my future career. — Savannah Ikach, a broadcasting major from Trinity High School in Washington, Pa. 
Apply for the PAB Scholarship
Pennsylvania residents interested in applying for these scholarships can go to www.PointPark.edu/PABScholarship for more information. 
More About: broadcast reporting, sports communication, sports, arts and entertainment management, Rowland School of Business, scholarships, photojournalism, School of Communication, Kiski Area High School