more news
Photojournalist shows reality of war in exhibit
Friday, April 8, 2011

April 2011
Point Park visitors and students were moved by the University's new photojournalism exhibition, says senior Joel Brewton.
"The expressions on the soldiers' faces are so honest, it's breathtaking," Brewton says of the portraits in "Faces of Battle, Afghanistan" by photojournalist Bill Putnam.
The exhibition is open in the Lawrence Hall gallery now through April 25, 2011.
The professional photographer came to campus on Friday, April 8 to discuss his works in a lecture in the JVH Auditorium in Thayer Hall.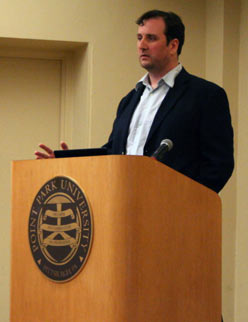 Bill Putnam speaks in JVH auditorium. Photo by Joel Brewton, senior photojournalism major

The photojournalist says his images don't comment on the conflict itself, but instead provide a window into those most affected by it.
"There is a big chasm between what civilian society knows and what the military experiences," says Putnam. "I want people, particularly students, to see war on the faces of people involved on a daily basis."
Putnam's work has been published in the Washington Post, Boston Globe, Newsweek magazine, Army Times, the Oregonian newspaper, Columbia Journalism Review, The New Republic magazine, NPR.org and digitaljournalist.org.
Afghanistan was his first trip back to war since leaving Iraq in June 2006 after nearly two years.
"Bill Putnam doesn't sugarcoat the experiences of those involved in war," says Kelly Cline, a junior studying photojournalism and global cultural studies. "His photos show what's real and happening right now."
Cline is the president of the National Press Photographers Association, Point Park chapter, which is sponsoring the exhibit and lecture with the School of Communication. Cline and other students worked with advisor and Assistant Professor Christopher Rolinson to bring the exhibition to Point Park.