more news
Pioneer Pantry Serves Point Park Students in Need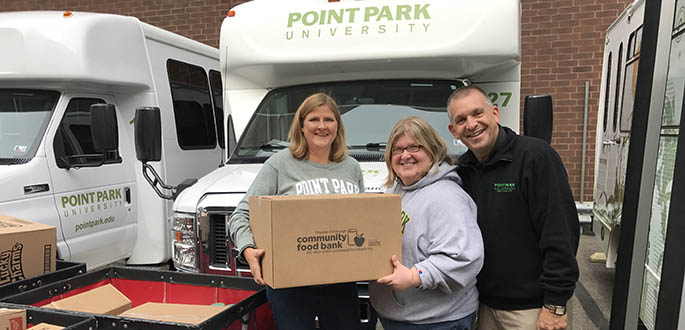 About Pioneer Pantry
The pantry is accepting on-demand orders for contactless pickup. Orders are typically filled Monday through Thursday. See the link below to place an order. 
With an effort spearheaded by a Point Park University doctoral student, a food pantry has been established on campus and is serving dozens of students in need.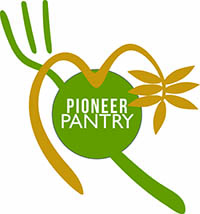 The Pioneer Pantry opened its doors at the beginning of the fall 2017 semester, following months of planning and implementation led by Veronika Panagiotou, M.S., who earned her bachelor's degree at Point Park and is currently a doctoral student in the Ph.D. in community engagement program.
"Research for one of my community engagement courses had us go to a food bank, and I was shocked by how many young people were in line waiting for food," said Panagiotou, the pantry's coordinator. "I began to wonder how many students at Point Park could benefit from a pantry."
According to Feeding America's executive summary, Hunger in America 2014, one in 10 adults seeking assistance from the food bank network in the U.S. is a student. About 31 percent of students interviewed for that survey report being forced to choose between paying for food or their education.
A recent survey of more than 325 Point Park students found that about 38 percent of them have faced times during the school year where they did not have enough food for themselves or their households.
With that in mind, Point Park has joined a growing list of colleges and universities across the country in establishing food pantries, and is the third in Western Pennsylvania, along with the University of Pittsburgh and the Community College of Allegheny County. The number of college food pantries has risen from nine in 2009 to nearly 300 by 2016.
Students who would like to take advantage of the Pioneer Pantry can fill out an online order at www.pioneerpantry.org. The website also tracks inventory, so students can select different categories and weigh their decisions based on what's currently in stock. Once an order is submitted, volunteers put together the package and alert the student via text when it is ready to pick up on the second floor of Lawrence Hall.
Those who take advantage of the pantry can receive up to 10 items twice a month. Students who need to use it more often will not be turned away, but must meet with a counselor so the University can determine if they require additional assistance.
"We have filled a number of orders for students in need, and we are making connections and building relationships," Panagiotou said. "I'm hopeful that through word of mouth and continued outreach, we will be able to reach all students who can benefit from the pantry."
The Pioneer Pantry is affiliated with the Greater Pittsburgh Community Food Bank. Different groups and schools on campus will host food drives throughout the year, and it is staffed with help from student, faculty and staff volunteers. The University's newly established Department of Community Engagement oversees the operations of the pantry.
More About: doctoral programs, Ph.D. in community engagement, faculty, doctoral student