more news
Point Park adding competitive cheer and dance teams for fall 2016
Friday, January 8, 2016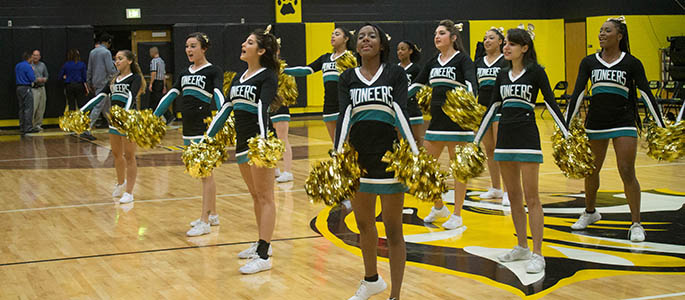 Starting this fall, Point Park will offer competitive cheer and dance teams as part of its varsity sports program. The new squads will have national affiliation with the National Association of Intercollegiate Athletics and compete as an invitational sport.
Currently, 60 schools take part in NAIA competitive cheer and dance, with the opportunity to take part in a national championship invitational. The 2015-16 academic year NAIA National Championship Invitational will be held March 11-12, 2016, at St. Ambrose University.
Learn more about Point Park
Student-athletes interested in competing for Point Park's competitive cheer and dance team should complete the Prospective Athlete Questionnaire, specifying competitive cheer and dance as the interested sports. In addition, interested student-athletes will need to complete the requirements of the NAIA Eligibility Center. Log on to www.PlayNAIA.org to start the process.
Point Park's competitive cheer and dance team members will need to meet and maintain the eligibility requirements of the NAIA and the Pioneers athletic department, as required for all student-athletes.
The search for coaching staff to lead the Pioneers competitive cheer and dance team will begin immediately.
Point Park has had a cheerleading team compete as a club sport organization for the last five years. During that time, the team has cheered at home basketball games and competed in cheerleading competitions in the area. The history of Point Park cheerleading dates back to the 1960s with the first formation of a team.
The addition of competitive cheer and dance brings the Pioneers' varsity sports offerings to 17 teams, including men's and women's basketball, baseball, men's and women's cross country, men's and women's golf, men's and women's soccer, softball, men's and women's indoor track and field, men's and women's outdoor track and field, and volleyball.