more news
Point Park adding men's and women's track and field teams starting fall 2014
Friday, January 31, 2014

Point Park University is adding men's and women's track and field teams for the first time, starting with the 2014-15 academic year. The new sports bring the number of Pioneers varsity teams to 13.
The Pioneers are currently seeking freshmen, transfer students and current students to help make Point Park history as members of the inaugural track and field teams, which will compete in the Kentucky Intercollegiate Athletic Conference.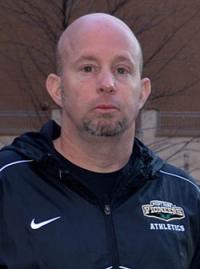 Kelly Parsley, head coach of track
and field

Point Park has hired Kelly Parsley, a Greensburg native with 12 years experience as a collegiate head coach, as the new head coach of track and field. Parsley has coached various levels of athletics including NAIA, NCAA Division II, NCAA Division III and high school, most recently at NAIA Lindenwood University-Belleville in St. Louis, Mo. (Read more about Parsley's selection as head coach.)
"I believe, even in the first year of competition, we will be among the conference's best teams," said Parsley, who joined Point Park Jan. 14. "I also believe that I will be able to recruit students that will potentially qualify for the national meet."
Student-athletes interested in competing on Point Park's new track and field teams should complete the prospective athlete questionnaire. Athletics scholarships will be available for eligible students.
The addition of men's and women's track and field at Point Park will add more opportunities for student-athletes to enjoy everything that intercollegiate athletics has to offer," said Dan Swalga, director of athletics. "We are excited about continuing the growth of athletics at Point Park University."
Point Park's athletics conference, the KIAC, is a National Association of Intercollegiate Athletics league that has 12 schools spread across Pennsylvania, Kentucky, Ohio, West Virginia, Indiana and Missouri. Point Park has successfully competed in national tournaments in baseball, basketball, cross-country, golf, soccer and volleyball.
"The KIAC offers a track and field championship meet, so our future student-athletes would have a goal to win their event at the conference meet and compete nationally at the NAIA meet," Swalga said. "These programs add two more spring sports, which balances our seasonal offerings, and we expect this addition will serve to enhance the cross-country programs that currently exist."
For more details about the track and field teams, visit the Point Park Athletics page.
Point Park fields men's teams in baseball, basketball, cross-country, golf and soccer. Women's teams include basketball, cross-country, golf, soccer, softball and volleyball. Student athletes are encouraged to inquire about any of Point Park's varsity sports.
Learn More About Point Park
Undergraduate Majors
Request information
Schedule a Visit