more news
Point Park baseball team to be recognized at PNC Park June 24
Tuesday, June 19, 2012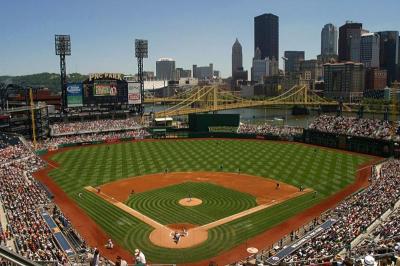 The Pittsburgh Pirates will recognize the Point Park Pioneers for the team's successful 53-11 season, including a NAIA World Series appearance, during an on-field ceremony prior to the Pirates-Tigers game on Sunday, June 24 at 1:35 p.m.
The Pirates are having a strong season of their own this year, currently playing over .500 and contending for a lead of the National League Central division. For Point Park baseball fans, June 24 is a great chance to be a part of a special event for the Pioneers.
The Pioneers will be congratulated for their NAIA World Series appearance (5th place) and school record-breaking, 53-11 season at approximately 12:15 p.m. on June 24. In another Pioneers connection, Point Park alum Don Kelly will be on hand as a current member of the Detroit Tigers.
PNC Park, the home of the Pirates, is located just a 10-minute walk from Point Park's Downtown Pittsburgh campus. The Pioneers were invited for the recognition by Pirates president Frank Coonelly.