more news
Point Park celebrates international cultures with spring festival
Friday, March 22, 2013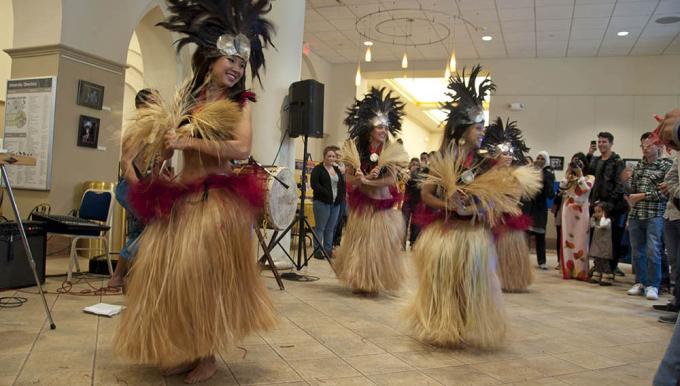 Polynesian dancers performed as part of Point Park's Global Festival Celebration 2013 in Lawrence Hall.

Point Park students shared traditions marking the arrival of spring at this year's Global Festival Celebration, which brought ethnic foods, crafts and even Polynesian dancers in grass skirts to the Lawrence Hall lobby March 12.
"What better way to celebrate than with food and music, and trying something new?" explained Rebecca Lee, ISSE director. "It's a way for students to step out of their boundaries." The annual event is sponsored by Point Park's Office of International Student Services and Enrollment as a way to connect the University's growing population of international students with their U.S. classmates by sharing similarities across cultures. This spring was the festival's fourth year.
Point Park has 115 international students -- 79 undergraduate and 36 graduate - from 35 countries, including Saudi Arabia, Turkey, Canada and India. The University is an attractive option for international students, who appreciate the personal attention of a small campus but want the benefits Pittsburgh offers as a big city.
Between 150-200 international and U.S. students stopped by this year's festival, sampling an array of international foods and crafts at informational tables representing many regions:
Tibet: Momos, traditional Tibetan dumplings; colorful prayer flags used to celebrate the new year

Ireland: Corned beef and hash

Russia: Bliny, a traditional Russian pancake

Japan: A wish tree, where students could hang wishes they had written on small slips of paper

Great Britain: Pancakes with toppings of lemon juice, sugar and jelly

Vietnam: Dau Xanh, or green bean cake similar to a candy bar

India: Laddu, a type of candy; plus students made Rakhi, bracelets usually fashioned during Raksha Bandhan, a Hindu festival
Hana Jiraskova, a biological science major from the Czech Republic, volunteered at the Tibetan table, but made sure to visit the other displays.
"I am really interested in geography and travelling, so I really enjoyed reading about those countries from the provided (informational boards) as well as talking to other international students," she said. "Obviously, the most favorite part was tasting the food samples of those countries."
Valeriya Mekhonina, a graduate student from Russia, volunteered at the Russian table.
"This festival was like a world atlas but only more interesting because all pictures were alive," said Mekhonina, who is in the master's in environmental science program. "I was glad that other students could get a little Russian gastronomic experience by tasting bliny, and for me it reminded me of home away from home. It was very nice feeling."
Photos by Kelly Cline, senior photojournalism major