more news
Point Park community honors student accomplishments at awards evening
Monday, May 7, 2012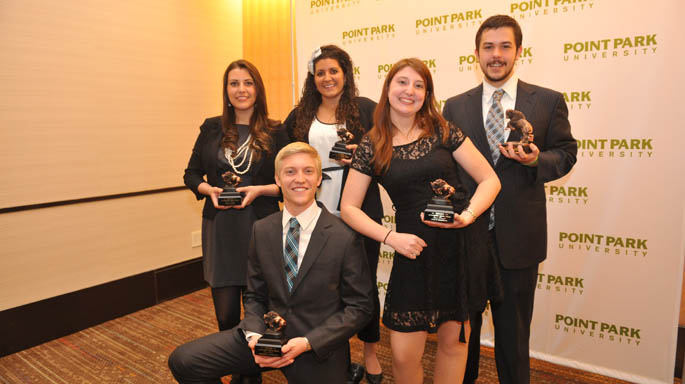 Point Park's 2012 outstanding seniors, from left: Rachel Kernic, School of Business; Cory Stoken, COPA; Rachel Roddy, School of Arts and Sciences; Ryan Strength, School of Communication. Far right, Alumni Association President's Award recipient Anthony Costulas.
As the 2011-12 academic year drew to a close, the Point Park community gathered to recognize the accomplishments of University students -- both inside and outside the classroom -- at the annual Outstanding Student Awards. The elegant event was held April 27 at the Fairmont Pittsburgh, just blocks from the Point Park campus in Downtown Pittsburgh.
Students and their families, along with President Paul Hennigan, Sr. Vice President for Academic and Student Affairs Karen McIntyre, Dean of Students Keith Paylo, faculty and staff, gathered for a formal dinner and evening of student recognition in advance of undergraduate commencement ceremonies on May 5.
A highlight of the program was the naming of the final five honorees - the Outstanding Graduating Senior Awards for each of Point Park's schools, and the Alumni Association's President's Award. During the ceremony, many students were recognized with additional awards. Those honored and the awards they received are listed below. Congratulations to all the award recipients, and to all of Point Park's graduating students!
Outstanding Graduating Seniors

School of Arts and Sciences: Rachel Roddy, elementary education major
School of Business: Rachel Kernic, sport, arts and entertainment management major
School of Communication: Ryan Strength, public relations and advertising major
Conservatory of Performing Arts: Cory Stoken, cinema production major
Alumni Association President's Award
Anthony Costulas, political science major
Academic Excellence Awards
Arts & Science

Department of Education: Nicole Thomas
Department of Humanities: Jessica Burtt
Department of Natural Sciences and Engineering Technology: Melissa Englert
Department of Criminal Justice: Amanda Lee Heinbough
Department of Intelligence and National Security: Jeffery Ryan Gurski
Outstanding Overall Graduate for Criminal Justice: Patrick Thomas Tutka
School of Business
School of Communication
COPA

Dance: Kimberly Marcotte
Theatre: Jaclyn McSpadden
Cinema: Joe DeWitt
Outstanding Honors Student Awards
Adelyn L. Biedenbach
Faith S. Cotter
Carleigh R. Dettorre
Mary E. Eklund
Amanda L. King
Flora Strange
Student Leader Awards
Emerging Leader: Trenton Derryberry
Outstanding Orientation Leader: Blair Jones
Outstanding Advisor Award: Pamela Walck
Outstanding Organization Award: Action Sports Club
Campus Life Staff Member of the Year: Avery McGee
Sophomore Experience Leadership Award: Cody Williams
Outstanding Student Leader: Shea-Colleen Smith