more news
Point Park helps to welcome One Young World Summit to Pittsburgh
Tuesday, October 23, 2012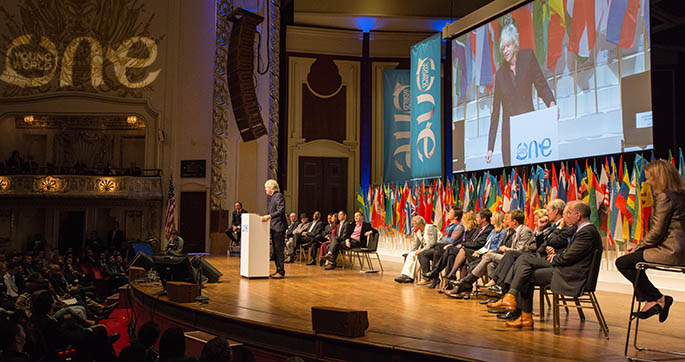 Opening ceremonies for 2012 One Young World Summit were held at Heinz Hall, just blocks from the Point Park University campus in Downtown Pittsburgh.
Point Park senior and United Student Government President Ian Sulkowski was among 1,300 delegates from more than 180 countries at the 2012 One Young World Summit, which was hosted in Pittsburgh Oct. 18 - 21. It was the first time the summit took place in the United States.

Point Park and Pittsburgh extended a warm welcome to delegates at the summit, which brought together the younger generation's best and brightest to ensure their concerns, opinions and solutions are heard. Participants left the summit with the goal of taking action to drive positive change in their communities, companies and countries around the world.
More One Young World Photos
Sulkowski said he enjoyed the "collaborative process through which young people from so many different countries had the opportunity to come together to debate issues and tangible solutions in such areas as economics, global health and more." According to Sulkowski, a global cultural studies major, the experience was "very rewarding and very much in line with what I've been studying for the past four years at Point Park."
Fifteen Point Park dancers performed a work choreographed by Associate Professor Kiesha Lalama and Kellie Hodges, an adjunct instructor in dance, at a welcome party for summit participants on the Roberto Clemente bridge last Thursday evening.
Earlier in the year, Point Park teamed up with the Pittsburgh office of Havas PR to support the firm's One Young House summer internship experience, part of preparation for the arrival of the 2012 OYW Summit. The firm provided four paid internships and Point Park provided the interns with a student apartment on its Downtown campus. The interns documented their experiences through social media, including the OYW Pittsburgh Partnership Facebook page and the @OYWPittsburgh Twitter feed. According to Point Park Dean of Students Keith Paylo, the internship program reflected "Point Park's dedication to providing students with real-life work experience in a fun, educational, urban environment."
Intern Shaquela Myrick, a senior public relations and advertising major at Point Park, said she appreciated the opportunity to "work with different clients and support account teams in a number of ways, such as compiling media lists, monitoring client media coverage and analyzing media research. We also spent a significant amount of time working on preparations for the summit. I gained experience in traditional and social media relations, grassroots events and community presentations."
According to Myrick, "we loved both working and living in the city for four months. It helped us interns to see the big picture and envision life in the 'real world.' I've learned the importance of knowing one's own self worth and talents," she added. "I encourage students to put themselves out there and don't be intimidated by new experiences. The journey toward being a successful working professional is never ending, so embrace it."