more news
Point Park honors Martin Luther King Jr. with annual Day of Dreams activities
Thursday, January 19, 2012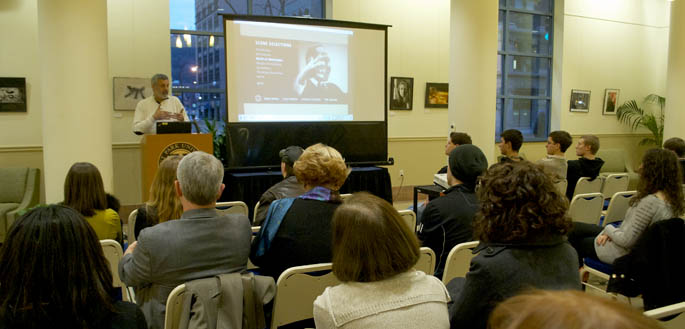 Ed Meena, professor of history, traces the history of the civil rights movement during Point Park's annual Day of Dreams to honor Martin Luther King Jr.
Point Park students, faculty and staff honored the legacy of Martin Luther King Jr. with activities and events for the University's third annual Day of Dreams celebration Jan. 16, and continued efforts the rest of the week.
collecting nearly $200 in donations, along with school and art supplies, for Pittsburgh King PreK-8 school on Pittsburgh's North Side;

Students from the Honors Program's Emerging Leaders cohort organized this year's events:
asking Point Park students to complete "My dream for you is …" messages to create classroom posters for King school;
listening to Ed Meena, Point Park professor of history, give a captivating talk about the civil rights movement and King's leadership;
watching excerpts from King's famous "I Have A Dream" speech;
eating a light "poverty dinner" of grilled cheese sandwiches, tomato soup and beverages as a reminder of the struggles endured during the civil rights movement.
In his talk, titled "The Road to I Have a Dream," Meena traced the beginnings of the civil rights movement to the passage of the 13th Amendment in 1865 ending slavery.
He cited the landmark events of American civil rights history — historic court cases, the role of African-American soldiers in World War II, the push for truly equal education, the participation of Jackie Robinson in Major League Baseball, the murder of teenager Emmett Till, the bravery of Rosa Parks refusing to give up her bus seat, the marches and protests in Montgomery and Birmingham. From these events, King emerged as the public face of the civil rights movement.
Meena urged the audience to remember that King's non-violent approach stemmed from his background: "He was a minister -- that's who Dr. King was. He was a man of peace, justice and message."
Meena said a national holiday is an appropriate way to honor King's legacy.
"If you look at all of our national holidays … they all represent the same thing - hope, renewal, striving for something better," Meena said. "I think Dr. King's birthday certainly fits into that category very well."
Photos by Leah Irwin, photojournalism major

Video by Kelsey Sylvester and Damian Winterbottom, cinema and digital arts majors