more news
Point Park Honors Program Hosts Celebration of Learning
Wednesday, April 28, 2010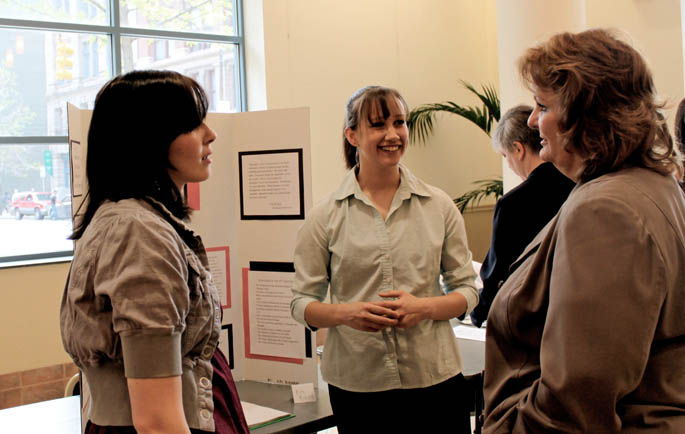 Seniors Jenni Anderson and Kiri Richards discuss their work with English Prof. P.K. Weston during the Honors Program Celebration of Learning. Below: Jenni Anderson with her thesis display.

The Honors Program held a Celebration of Learning on Thursday, April 15 to honor 10 seniors graduating in May and four December 2010 graduates. The celebration also highlighted the Honors Program's academic and community service efforts for the year.
May graduates are Jenni Anderson, Barbara Arroyo, McKenzie Baird, Ana Bird, Kyle Darville, Mack Frantz, Ashleigh Henry, Dana Hertz, Jamie Inferrera and Kiri Richards. Students scheduled for December graduation from the honors program are Rebekah Laslow, Jami Shapiro, Dominique Shurtz and April Weber.
First students and faculty congregated in the Lawrence Hall lobby for the Senior Thesis display, where Honors Program seniors presented their work and efforts on completing their senior thesis projects. Students complete 18 credits to fulfill the program, earning a 3.5 QPA in all honors courses and a 3.0 overall QPA.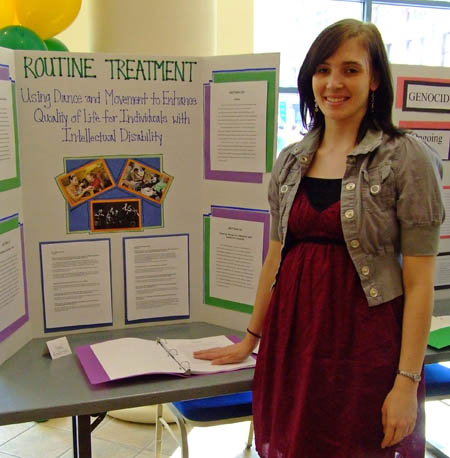 Then honors program students, seniors, faculty, administrators and staff gathered for the program. After the welcome by Helen Fallon, director of the Honors Program, Dr. Rob Skertich, an assistant professor of public administration in Point Park's School of Business, spoke about his community service endeavors and travels to Haiti with the National Disaster Medical Team. He gave suggestions on how students can get involved with disaster relief organizations and other groups.
Community service reports continued after Skertich's presentation when a group of students from the Alternative Spring Break trips discussed their experiences. December graduate April Weber spoke of her "Breakout in the Bayou" trip in New Orleans for Habitat for Humanity with 11 other Point Park students, where they helped build houses. Senior Mack Frantz, sophomore Flora Strange, and freshmen Zoë Sadler and John Sfarnas spoke of the Honor Program's visit to New York City during spring break. They highlighted all their favorite moments, including shoveling snow for Partnerships in the Park and helping to fundraise over $27,000 for the Housing Works charity that assists homeless people with AIDS.
Dr. Charles Perkins, provost, spoke to the direct relationship of Honors Program's mission to the University's emblem and motto. He spoke of the great developments of the program and the students and their commitment to academic excellence.
Jamie Infererra, president of the Honors Student Organization, closed the celebration with a synopsis of all the activities of the program this year, including the $1,000 raised in October for the Susan G. Komen Foundation, members attending and presenting to the Northeast Regional Council in Harrisburg, co-sponsoring the first Day of Diversity on Martin Luther King Day with the Black Student Union, and multiple other events.
In closing Fallon said, "I would like to congratulate and thank all the seniors and presenters on their exceptional and profound work within the Point Park community. Our program offers unique opportunities to those eager and accelerated students among the University - a tradition we want to continue and grow with our program."
Current or prospective Point Park students interested in joining the honors program can contact Fallon at hfallon@pointpark.edu or 412-392-3982.
Article by Zoë Sadler, freshman, advertising and public relations major
Top photo by Camelia Montoy,freshman, photojournalism major
Bottom photo by Rachel Norris, freshman photojournalism major