more news
Point Park Hosts Junior Achievement Titan Business Challenge competition
Thursday, June 6, 2013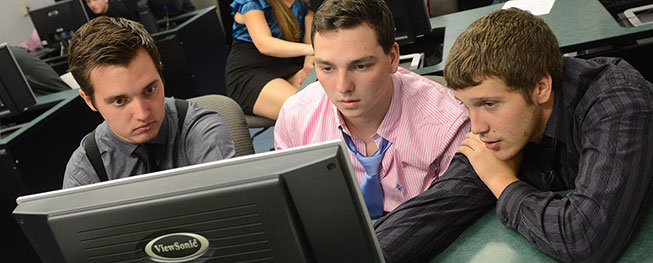 More than 90 high school students representing a dozen high schools participated in the Junior Achievement of Western Pennsylvania's Titan Business Challenge Grand Championship held at Point Park University on May 15.
Winning first place in the competition, in which students gain points by managing virtual companies and making effective business decisions, was the team of Jacob Scoccimerra, Joe Cippel and Aaron Shaner from Ford City High School in Armstrong County. Another team from Ford City earned third place honors, second place and fourth place awards went to teams from Richland High School, and a team from Rocky Grove High School took fifth place. Prizes for the top winners included Point Park scholarship awards. The JA Titan Business Challenge event was sponsored by Point Park, FedEx Ground and First Niagara Bank.
In his opening remarks Dennis Gilfoyle, president and CEO of JA of Western Pennsylvania, said, "the Titan Business Challenge has grown to become a truly global competition. This is our region's version of the Stanley Cup championship."
"We're very excited to be a sponsor of Junior Achievement's Titan Business Challenge," said Jim Thomas, associate vice president of academic and student affairs.
"Here at Point Park, we love competition! Students in each of our four schools participate in competitions at the local, regional and national level, and the same is true of our student athletes. We encourage you to spend some time today exploring our vibrant campus right here in the heart of Downtown Pittsburgh. We hope you'll compete well, do your best and enjoy the day."
The JA Titan program teaches high school students how to make critical business decisions as they run their own company in an interactive online simulation. Students are challenged to increase sales and profits, react to their competition, try new business strategies and respond to changing market conditions.
Senior Simon Knapp of Shade-Central City High School, who has participated in three JA Titan Business Challenge events, said that the competition provides first-hand experience in the challenges of operating a successful business.
"I really enjoyed the Titan Challenge and I had a great time at Point Park," he said.
Tessa Corle and Jordan Henderson, both seniors at Tyrone High School, agreed. "It's a great competition and I have learned a lot about business," said Corle, who plans to major in accounting in college. "Everyone we've met has been really nice," said Henderson. "It's been a good experience and I enjoyed seeing Point Park."
Each participant received a copy of The Missing Semester by author Gene Natali Jr. The book covers the importance of making good financial choices.
In addition to Ford City, Richland, Rocky Grove, Shade-Central and Tyrone, other participating high schools included: Montour H.S., Saegertown H.S., Union H.S., Clarion Area H.S., Greensburg Salem H.S. and Somerset H.S.