more news
Point Park international students enjoy traditional Thanksgiving dinner
Monday, November 24, 2014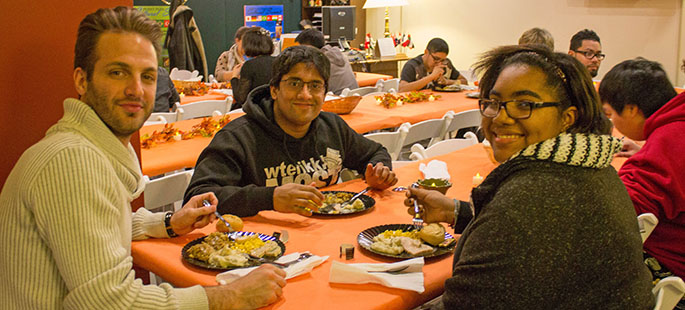 Point Park's international students got to try a classic American-style Thanksgiving dinner just ahead of the holiday, with students from Malaysia to Venezuela sitting down to a meal of turkey and stuffing, mashed potatoes, cranberry sauce and pumpkin pie.
The University's Office of International Students Services and Enrollment hosted its fourth annual Thanksgiving dinner Nov. 18 at its offices in the 101 Wood St. building. Students sat at tables adorned with orange tablecloths, colorful corncobs and tea lights in dishes shaped like fallen leaves.
Photo Gallery
---
Learn More
International admission
Undergraduate majors
Graduate programs
Apply online
For Shayna Mendez, a sophomore photojournalism major from Jamaica, the gathering was her first Thanksgiving celebration.
"I'm looking forward to it because it's not something we have at home," she said.
Point Park University currently has 152 international students from 41 countries. There are 112 undergraduate students, along with 40 pursuing master's degrees.
At the Thanksgiving gathering, Rebecca Lee, ISSE director, welcomed the international students, then began the meal with a blessing and her thanks to the students.
"I'm so thankful that you're here at Point Park," she told them. "Always know that we are your family here!"
Extending the American culture and family were the most important themes of the evening, Lee explained.
"The office is all about welcoming cultures but it's also a give and take, and it's a way for us to embrace students as a family," Lee said. "When you think about Thanksgiving dinner, you're celebrating with your family, so it's all about commonalities. It's family, it's sharing foods, gathering at a table, that sort of thing, that really kind of bridges all the cultures."
For some of the international students, the Thanksgiving menu was a highlight of the evening.
"Turkey is my favorite part!" said Lin Kai-Yuan, a sophomore forensic science major from Malaysia who also attended last year's ISSE Thanksgiving dinner.
His friend, Juan Lopez, a sophomore cinema major from Venezuela, was also celebrating his second ISSE Thanksgiving dinner. The best part? "A lot of cool people and tasty food."
Article and photos by Victoria A. Mikula, sophomore photojournalism major