more news
Point Park receives $4 million gift for Student and Convocation Center
Thursday, May 6, 2010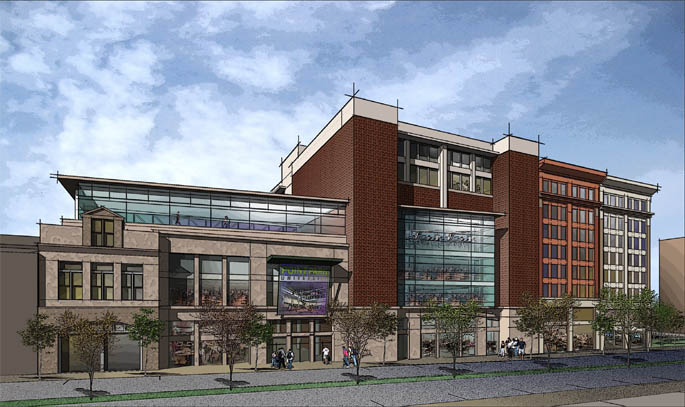 May 6, 2010, Pittsburgh - As Point Park University advances its Academic Village Initiative, a $244 million campus and public enhancement space plan, it announced today that it has received a $4 million grant from the Richard King Mellon Foundation, the largest gift ever to the university from a foundation or individual. The grant will support renovation and construction of the University's new Student and Convocation Center, located at 330 Boulevard of the Allies in Downtown Pittsburgh.
"The Richard King Mellon Foundation is pleased to make this gift to Point Park in support of a progressive university and its innovative plan for the Academic Village," said Scott Izzo, director. "Dr. Hennigan's leadership and vision have instilled the foundation with great confidence in the value of this project for the community."
The foundation's $4 million award includes a matching grant, contingent upon raising like funds from alumni and individuals.
"The Student and Convocation Center will become the hub of our campus and student activities," said Paul Hennigan, president. "The support of the Richard King Mellon Foundation is critical to our success in providing academic and recreational spaces for our students and an amenity for the Downtown community. We are grateful for the foundation's generosity in helping us to become one of the most dynamic private, urban universities in America."
Formerly home to the YMCA, 330 Boulevard of the Allies is a 115,000-square-foot facility built in 1985, and acquired by Point Park University in 2008. The new Student and Convocation Center will provide a rich assortment of academic, student life, and athletic amenities that will enhance the educational, social and physical experience for students. The center will house a 1,000-seat varsity basketball arena that can convert to convocation space. The University's athletic department will be located there, as well as locker and training rooms for students and teams, a fitness center and running track, bookstore, meeting rooms, academic areas, dining services, and activity spaces.
Point Park has set a goal to have construction of the Student and Convocation Center, a $32 million project, to begin by the end of 2012.
Point Park University is undergoing a transformation. With the completion of the Leadership in Energy and Environmental Design (LEED) Gold dance complex, renovations to the adjacent historic Lawrence Hall and opening of a new loft-style residence apartments, the University continues its progress on the Academic Village at Point Park University, a $244 million master space plan. An overview of the new Academic Village at Point Park University is available at www.pointpark.edu/academicvillage.
About Point Park University
Point Park University, founded in 1960, is a comprehensive master's level university with a strong liberal arts tradition located in the heart of Downtown Pittsburgh. Point Park enrolls more than 3,900 full-and part-time students in 67 undergraduate programs and 11 graduate programs offered through its School of Arts and Sciences, School of Business, School of Communication and the Conservatory of Performing Arts.