more news
Point Park recognizes student accomplishments at Outstanding Student Awards celebration
Thursday, May 2, 2013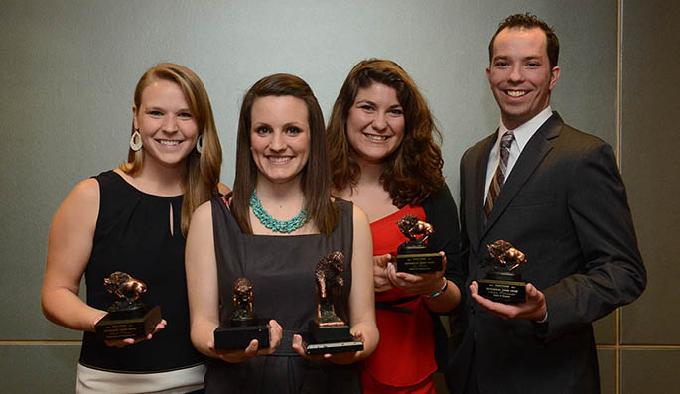 Point Park's 2013 Outstanding Seniors: Heidi Schlegel, Conservatory of Performing Arts; Karly Shorts, School of Arts and Sciences; Zoe Sadler, School of Communication; and Adam Sutermaster, School of Business.
From academic excellence to extraordinary leadership to contributions across the campus, Point Park honored a wide array of student accomplishments at a festive evening to cap the 2012-13 academic year.
More than 300 students and faculty, along with friends and family members, gathered April 26 at the Fairmont Pittsburgh hotel, just a few blocks from campus, for Point Park's 2013 Outstanding Student Awards dinner.
"This has been a wonderful year for academically thriving and achieving, and we want to recognize the accomplishments of faculty and students in that effort. In all of our schools, students have exceeded their expectations," Karen McIntyre, senior vice president for academic and student affairs, told those assembled.
At tables with yellow rose centerpieces and tea-light candles, the students, faculty and guests dined on baked chicken, asparagus and risotto, followed by chocolate pudding parfaits and fruit and cream tarts, all to a background soundtrack of soft jazz.
Many of the students who attended were graduating seniors. To them, Point Park President Paul Hennigan offered four simple recommendations: have confidence in yourself; work hard; set a new goal; and be lifelong learners.
"Most recent college graduates do not become the CEO of a company right out of school. Most recent college graduates don't get the lead on Broadway. Most college graduates right out of school don't get to anchor the evening news," he said. "We all had to start at the bottom and we had to work hard and work our way through to where we are today. It takes a whole lot of hard work and it takes a very good attitude."
Hennigan described his own early job experiences -- working on a paving crew, bartending, waiting tables - that helped shape his words of advice.
"Wake up every single day with a goal and a sense of direction. Just getting up is a good thing, right? Go to work; pay your bills; and find a path," Hennigan told them. "Stay on your path and it all will work out very nicely for you."
2013 Point Park Student Award Recipients

Outstanding Graduating Seniors
Karly Shorts, School of Arts and Sciences
Adam Sutermaster, School of Business
Zoe Sadler, School of Communication
Heidi Schlegel, Conservatory of Performing Arts
Outstanding Graduate Student
Honors Award Recipients
Isabella Alexandratos
Zoe Sadler
James Katezulas
Cornelia Bianca McLellan
Campus Life Staff Member of the Year
Sophomore Leadership Award
Co-Curricular Awards
Outstanding Advisor: Katherine Sikma
Outstanding Orientation Leader: Michael Swalga
Program of the Year: "Vagina Monologues," Got Consent?
Unsung Hero: Emmiley Stern
Emerging Leader: Laura Carmody
Outstanding New Student Organization: Fashion Club
Outstanding Student Organization: Strong Women, Strong Girls
Outstanding Student Leader: Karly Shorts
Academic Excellence Awards
Undergraduate Students
Jennifer Arfsten, Musical Theater
Nialyn Bey, Human Resources Management
James Bloom, Electrical Engineering Technology
Kelsey Bower, Design
James Brewer, Outstanding Graduate Criminal Justice Programs
Nicole Chynoweth, Outstanding Contribution to the School of Communication
Bailey Donovan, Cinema
Elena Egusquiza-Miller, Acting
Caitlyn Ehmann, Outstanding Graduate Criminal Justice & Intelligence Studies Department
Hannah Finch, Dance
Ashley Funkhouser, Business Management
Courtney Geruschat, Accounting
Patricia Gooden, Outstanding Graduate Forensic Science Program
Kalea Hall, Outstanding Contribution to Point Park News Service
Elizabeth Haushalter, Business Management
Sara Mahmood, Education
Autumn Mitchell, Outstanding Graduate Intelligence & National Security Program
Kristen Montgomery, Psychology
Shaquela Myrick, Outstanding Contribution to the School of Communication Clubs
Lindsey Oberacker, Biological Sciences
Jose Olavarria, Economics/Finance
Greg Porter, Public Administration
Tim Robinson, Organizational Leadership
Sarah Samuels, Psychology
Hugo Schroeder, Stage Management
Justin Smith, Information Technology
Nicholas Sperdute, Outstanding Contribution to WPPJ student radio station
Susan Spieler, Biotechnology
Adam Sutermaster, Sport, Arts and Entertainment Management
Richelle Szypulski, Outstanding Contribution to The Globe student newspaper
Lindsey Watson, Outstanding Contribution to U-View student TV station

Graduate Students
Michael Devine, Criminal Justice Administration
George Githiaka, M.A. in Organizational Leadership- Management & International Studies
Elizabeth Ann Jenkins, MBA- Fast Track
Darren Jones, Engineering Management
Deirdre Kane, M.A. in Organizational Leadership- Community Leadership
Matthew Miles, Environmental Studies
Darlene Natale, Journalism and Mass Communication
Daria Opekunova, MBA - Traditional
Jill Randolph-Lazzini, Education
Robert Toth, MBA - Accelerated
Jennifer Toth, MBA - Accelerated