more news
Point Park Salutes the Girl Scouts
Tuesday, February 21, 2012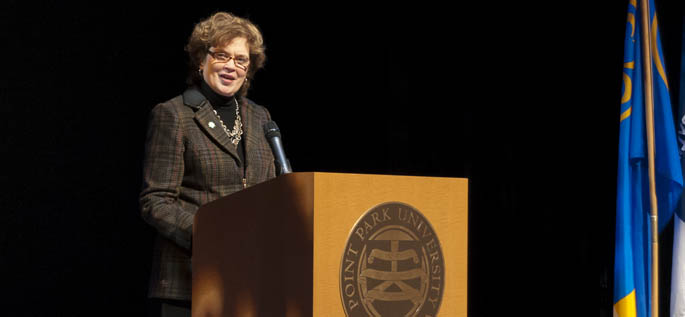 Susan Corbett, first lady of the Commonwealth of Pennsylvania, speaks at the Feb. 16 Girl Scout celebration at Point Park University.
Point Park University helped pay tribute to the centennial of the Girl Scouts of Western Pennsylvania at a Feb. 16 campus celebration that included a keynote address by First Lady of Pennsylvania Susan Corbett.
The event, which included an afternoon tea in the Lawrence Hall lobby and a dance performance by students from the Conservatory of Performing Arts, brought together leaders from the Girl Scouts, the Eden Hall Foundation, and executive women from throughout the region. Philanthropist Elsie Hillman, who invited Corbett, was scheduled to attend but was unable due to illness.
Point Park freshman Dakota Dawson, the recipient of a Girl Scout Gold Award, spoke during the formal program, which included proclamations and a flag ceremony featuring members of the Beverly Jewel Wallace Lovelace Girl Scouts troop (which serves girls from underprivileged communities).
Lifelong Impact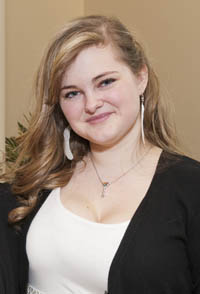 Point Park freshman Dakota Dawson
was recognized as a Girl Scouts Gold
Award recipient.

"Today we celebrate 100 years of Girl Scouting and the important role it has played in shaping the lives of young women," said Point Park President Paul Hennigan, a former Eagle Scout who remarked that members of his own family have benefitted from opportunities provided by the Girl Scouts and the Boy Scouts.
Corbett also praised the positive, lifelong impact of Scouting. "I have very fond memories of the Girl Scouts, from my own experience as a Brownie and senior Girl Scout to serving as a leader of my daughter's own Girl Scouts troop."
"Scouting opened up many doors for me," said Dawson, who spent 12 years as a Girl Scout and is now studying intelligence and national security at the University. "I learned that if I push myself, I can accomplish anything."
A Grand Celebration in August and an anniversary website
Later this year, Point Park will host the Girl Scouts Grand Celebration on campus August 17-19. The three-day event will bring together Scouts from throughout the region to participate in a variety of free workshops on such topics as "Strong Women in History," social media and photography, as well as many other activities.
In addition, students in a multimedia capstone course in Point Park's School of Communication are creating a micro-website for the Girl Scouts 100th anniversary. Faculty members Heather Starr Fiedler and Thomas Baggerman are working with students to build the site, which will feature video, an interactive map of Girl Scout chapters, and special sections devoted to history, badges, uniforms and, of course, the famous cookies. An interactive feature will enable visitors to submit their favorite Scouting memories via video, audio or text.