more news
Point Park selects John H. Pearson, Ph.D., as next provost
Monday, January 25, 2016
John H. Pearson, Ph.D., has been selected to be the next provost of Point Park University after a nationwide search that drew a number of well-qualified candidates.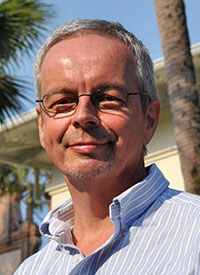 Pearson is currently associate vice president of academic affairs at Stetson University in DeLand, Fla. He holds a Master of Arts and a Ph.D. in English from Boston University. He began his career in 1988 as an English professor at Stetson.
"Point Park University is committed to a personalized support system that gives each of our students the opportunity to build a plan for a successful future," Point Park President Paul Hennigan said. "John's experience clearly shows a commitment to the same values that have allowed Point Park to thrive as a student-centered university with an eye toward innovation and community engagement."
At Stetson, Pearson founded and directed for 10 years the General Studies Program, created to improve the performance and retention of academically at-risk students. He also founded Stetson's Discovery Program, an advising program for undecided students designed to enhance student experience from first contact to the selection of a major.
And, in fact, it was Point Park's commitment to individual student success and a community focus that drew Pearson to the role of chief academic officer here.
"The University values are very much in line with my own," Pearson said. "I relish the opportunity to provide students with a foundation for lifelong success and significance in their professional, public and personal lives."
Pearson is expected to begin his new role in early June. He replaces Karen S. McIntyre, Ph.D., provost and senior vice president of academic affairs, who will take a yearlong sabbatical before returning to chair Point Park's newly established Department of Innovative Learning.

Photo courtesy of Stetson University