more news
Point Park students celebrate Martin Luther King Day on campus, at inauguration
Monday, February 4, 2013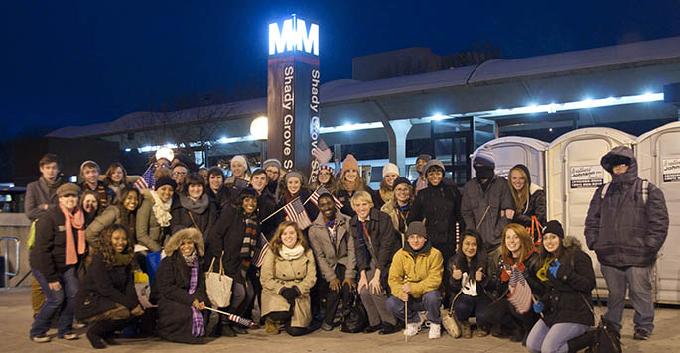 Point Park students -- and their American flags -- at a Metro stop during their trip to Washington, D.C. More photos below.
Point Park University observed Martin Luther King Day with creative activities on campus, and for 49 adventurous students, a same-day bus trip to Washington, D.C., for the inauguration of President Barack Obama.
On campus, Point Park's Honors Student Organization coordinated the day's events, including the creation of a "Tree of Dreams" poster on which students wrote down their hopes and dreams on individual leaves.

Students on campus were invited to a luncheon, hosted by the Office of Student Affairs, in the Lawrence Hall ballroom where the inauguration ceremony and speeches were shown live on a large screen."The idea is that as the tree grows, the dreams grow," explained Honors Program student Zoe Sadler, a senior double majoring in advertising and multimedia from Greensburg, Pa. "It's exciting to have this energy on campus. There's a lot going on and students want to be a part of it."
Later in the afternoon, J. Dwight Hines, assistant professor of global cultural studies, gave a talk about food issues and social justice. To wrap up the day, students attended a grilled cheese sandwich dinner.
Justin Karter, a graduate student from Buffalo, N.Y., who is pursuing an M.A. in journalism and mass communication, worked with the Honors Program students on the day's activities.
"This day reminds me of what's been accomplished in areas of social justice. But it also reminds me of how much still needs to be done," he said. "We have to keep working towards equality."
For the students who went to Washington, D.C., the day began at 3:30 a.m. when they boarded a bus in front of Academic Hall, with two Point Park staff members supervising the trip.
Once in Washington, some students found locations along the Mall to watch the inauguration, while others snared spots along the parade route, visited the memorials near the Mall or stopped in one of the Smithsonian Institution museums.
Johnie Lynn Freiwald, a sophomore broadcasting reporting major from Portage, Pa., watched the inauguration from the Mall and walked around Washington to explore the city. The magnitude of the inauguration crowd made a big impression.
"The sheer amount of people that flocked to the city to witness the event was quite incredible to me," Freiwald said.
Intelligence and national security major Gabriel Dubin, a freshman from Cameron Park, Calif., stood near the Smithsonian to watch the inauguration.
"Watching the President get sworn in made the biggest impression on me because I got to experience a once-in-a-lifetime opportunity and watch the U.S. government at work," Dubin said. "I realized, while I watched Obama giving his speech, that the future looks bright for our country."
Washington, D.C. photos by senior photojournalism major Kelly Cline
Video by senior cinema and digital arts major Kelsey Sylvester