more news
Point Park students run, volunteer, play and dance for Pioneer Community Day 2013
Sunday, April 28, 2013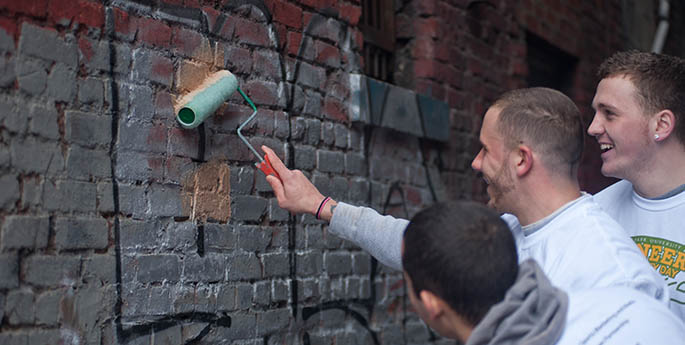 Point Park students paint over graffiti on a wall along First Avenue, a few blocks from campus in Downtown Pittsburgh.
Point Park students spent hours of their free time on a chilly Saturday to give back, clean up and help out in Downtown Pittsburgh as part of the University's annual Pioneer Community Day.
More than 125 Point Park students, faculty and staff took part in activities April 13 that stretched from an 8 a.m. 5k run on the North Shore to an evening dance in the Lawrence Hall ballroom to raise money for the Make-A-Wish Foundation.
The mid-day volunteer work, including painting over unsightly graffiti and cleaning out Downtown public gardens for spring planting, was a major focus of Pioneer Community Day, which began two years ago as a day of service. The event is a joint project of the University and United Student Government.
"Pioneer Community Day was a remarkable success this year," said A.J. D'Alfonso, a senior acting major and president of USG.
"We focused our volunteering efforts on the Downtown community and tried to engage participation in various other ways through running in the Pirates Home Run 5K, sewless blanket making, a dodgeball tournament, and the mini concert in the Village Park!"
Amelia Hackimer, a junior sport, art and entertainment management major who co-chaired the event with D'Alfonso, said the organizing committee was thrilled with the level of participation.
"Pioneer Community Day was an awesome opportunity for Point Park students, faculty and staff to give back to our local Downtown community," she said. "Overall the day was a success in my opinion. We were all very happy with the turnout."
Photo Gallery