more news
Point Park to Host Storytelling and Human Rights Symposium on April 12
Tuesday, April 2, 2013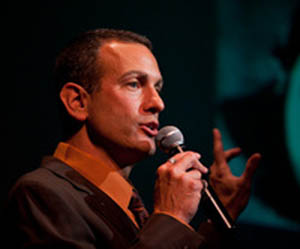 Drew Kahn
Point Park University's Honors Student Organization, United Student Government and Global Solutions Pittsburgh will host a Storytelling and Human Rights Symposium on Friday, April 12, 2 to 6 p.m. in the University Center's GRW Theatre.
Drew Kahn, theatre professor at Buffalo State College and director of the Anne Frank Project, is the keynote speaker.
Kahn will present on historical and contemporary human rights violations and discuss how theatre, journalism and the arts can aid in healing and preventing genocide. A panel discussion featuring Annie Siebert, a reporter for the Pittsburgh Post-Gazette, and Point Park Assistant Professors J. Dwight Hines, Ph.D., and Karen Dwyer, Ph.D., will follow the presentation. The panelists will also work with participants to create a skit, a story or a piece of art that describes a particular human rights violation.
Pre-registration is required to attend. The event is free and open to the public. Complimentary refreshments will be served.
For more information, contact Isabella Alexandratos, Honors Student Organization president, at ialexandratos@pointpark.edu or 412-392-8192 or Justin Karter, graduate assistant, at jkarter22@gmail.com.
Learn more
Get the latest updates on the Storytelling and Human Rights Symposium on Facebook.
Learn more about the School of Arts and Sciences, School of Business, School of Communication and Conservatory of Performing Arts at Point Park University.