more news
Point Park to open classroom space at Stage AE this fall
Thursday, February 10, 2011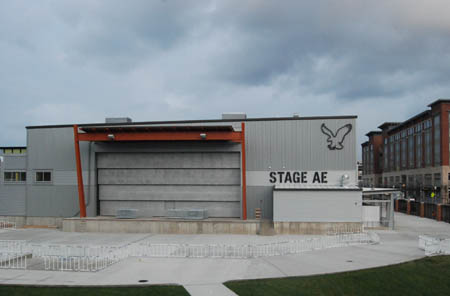 Point Park University students enrolled in the sport, arts and entertainment management program will soon have a unique opportunity to experience their academic lessons in a real-world work environment.
This fall, Point Park University will open a classroom space at Stage AE on Pittsburgh's North Shore. Students studying in the SAEM program will have lessons in a dedicated classroom space and have proximity to internship and employment opportunities inside the venue.
"Our collaboration with Stage AE will serve as a learning laboratory for our students who will have the opportunity to participate in internship programs, employment opportunities and benefit from the on-site involvement of Stage AE leadership in the classroom," said Angela Isaac, dean of the School of Business at Point Park University.
The opening of the 25-seat classroom space is the culmination of months of planning and collaboration between Point Park University and Stage AE owners, PromoWest. According to Steve Tanzilli, director of the SAEM program for Point Park, 'We have always viewed Pittsburgh as an extension of our campus and now with opening of classroom space at Stage AE, we are able to offer our students a proximity to the industry that is unprecedented for this region if not the country."
Even though the Stage AE classroom will not open until the fall of 2011 semester, students from Point Park have already benefited from a close collaboration with the venue. Students are working in various capacities for both concerts and special events at the venue, as well as serving as interns in the Stage AE marketing and promotions offices.
"This is a very exciting initiative for Stage AE," said Amy Cooper, director of marketing for Stage AE and PromoWest. "We're proud to play a part in helping to prepare the next generation of professionals in this field." Stage AE, owned by the Pittsburgh Steelers, PromoWest North Shore and Continental Real Estate Companies, has hosted several nationally-known entertainment acts since its opening last fall including Bret Michaels, Cake, and Girl Talk.
"Whether a student is interested in managing a sports team or being the director of a performing arts company, the basic business practices are much the same and where better to learn than in an actual work environment." said Tanzilli. SAEM students will take classes at Stage AE in the foundations of business basics like principles of management, accounting, human resources and corporate finance as well as become immersed into the sport, arts and entertainment specific industries with courses in promotion, venue management, event management, live entertainment and arts management.
"Downtown Pittsburgh's world class cultural offerings and champion sports teams make it a perfect learning environment to study these fields," said Tanzilli. "With this collaboration, we are able to offer Point Park students a program that will not only teach them the foundations of sport, arts and entertainment management, but may be the springboard to a future career."
Photo courtesy of Stage AE