more news
Point Park University Appoints Angela Hardy Isaac, Ph.D., as Dean of School of Business
Thursday, August 6, 2009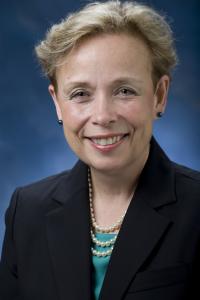 After conducting a national search, Point Park University has hired Angela Hardy Isaac, Ph.D., as the new dean of the School of Business.
In her new role, Dr. Isaac will build upon the academic successes of the school, providing a clear, strategic vision for the School of Business in addition to cultivating strong and supportive relationships with regional businesses.
"The extent of Dr. Isaac's knowledge in both higher education and industry is quite impressive," said Charles Perkins, Ph.D., provost. "Her experience in academic program development and course design in addition to her extensive expertise in corporate governance, operational risk management, and business continuity made her an optimal choice as dean."
Perkins goes on to say that Dr. Isaac brings a nice blend of teaching and professional experience to the University, having spent time as a business faculty member at several institutions of higher education.
Dr. Isaac joins Point Park from Fannie Mae in Washington, DC, where she served as Senior Vice President of Operational Risk Oversight and interim head of Market Risk Oversight. While there, Isaac was responsible for establishing and providing oversight for Fannie Mae's operational risk programs, as well as market risk programs and independent testing of Fannie Mae's critical models. She also handled the development of Fannie Mae's economic capital program.
Prior to joining Fannie Mae, Isaac was director and product leader, Basel II Services with Protiviti (a subsidiary of Robert Half International, Inc.) where she was responsible for building a new risk advisory practice serving financial services organizations seeking to improve operational risk practices. In addition to the execution of engagements, Isaac has widely been published and publicly presented in professional forums on the advancement of operational risk management practices. During her professional career, she has held executive positions at leading financial institutions, including BankBoston, Bank of Hawaii, First Interstate and Citigroup. Isaac began her professional career as a university educator, serving on the faculties at the State University of New York, LeMoyne College and Rochester Institute of Technology.
Isaac is a board regent at Chaminade University of Hawaii and a board member at the Hawaii Nature Center. She is the former president of the National Asset/Liability Management Association and the New York State Economics Association. She has also served as a member of several national consortiums dedicated to the development of risk management practices, as well as served as an advisor to universities in supporting risk management and finance curriculum.
Isaac has a doctor of philosophy in finance and economics and a master of arts in applied economics from State University of New York, a master of business administration in finance and strategic planning and a bachelor of arts in political philosophy from the University of Pittsburgh.
The School of Business at Point Park University offers degrees in accounting, business management, information technology, leadership and public service, public administration organizational leadership, economics and finance, human resources management, and sport, arts and entertainment management. Programs include two Master's degree programs, twelve Bachelor's degree programs and five Associate degree programs.
For more information about Point Park University's School of Business, visit www.pointpark.edu.