more news
Point Park University Mourns the Loss of Student-Athlete Tyler Carter
Thursday, May 25, 2017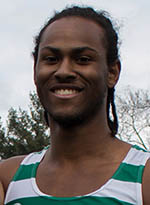 Tyler Deshon Carter, a 19-year-old rising sophomore at Point Park University, died in a drowning accident on Wednesday, May 24, in Gulf Shores, Ala.
"The Point Park University family is devastated by this loss," President Paul Hennigan said. "Tyler was more than just an impressive athlete - he was an excellent student and an even better person. Our love, prayers and support are with his family and friends."
Carter, a history major, was a member of Point Park's Men's Track and Field team. Ranked No. 4 nationally in the triple jump, he was in Alabama to compete in the NAIA Outdoor Track & Field National Championship this week and was scheduled to compete Saturday.
A native of Penn Hills, Carter graduated from Trinity Christian School and was the son of Shawn and Yvonne Carter.
For more about Carter's athletic journey at Point Park, visit PointParksports.com.