more news
Point Park University Police Officers Participate in 3rd Annual Torch Run for Special Olympics
Thursday, June 13, 2013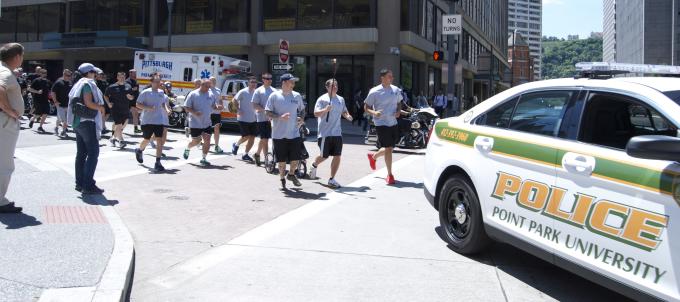 Point Park officers rounding the corner from Forbes Avenue to Stanwix Street during the 3rd Annual Be a Fan Torch Run.
On June 4, Point Park police officers participated in the 3rd Annual "Be a Fan" Torch Run for law enforcement agencies and groups. The run helps raise money to support Special Olympics athletes.
"This was a great opportunity to get our officers out into the community we serve in support of a great cause like the Special Olympics," said Jeff Besong, assistant vice president of public safety and chief of police. "We had a lot of fun with this event. We'd be honored to do it again."
The full course began at home plate in PNC Park and ended at home plate in Medlar Field in State College on Thursday, June 6. More than 50 law enforcement teams and 350 law enforcement members commit to owning a leg stretching just more than three miles. Point Park's officers ran with Pittsburgh S.W.A.T. members from Market Square to 33rd Street on Liberty Avenue.
In two years, the "Be a Fan" Torch Run raised over $120,000 in support of 20,000 Pennsylvania Special Olympics athletes.