more news
Point Park's 52nd Annual Commencement and Master's Degree Hooding Ceremonies
Monday, May 21, 2012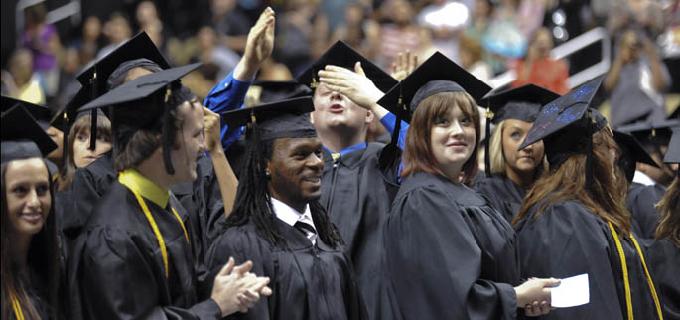 On Saturday, May 5, Point Park graduated 817 undergraduate students during the University's 52nd annual commencement ceremony held at Consol Energy Center in Downtown Pittsburgh.
President Paul Hennigan opened the event with encouraging words for the Class of 2012 saying, "Today is a great day. A time of pride and celebration."
Meghan M. Ginley, theater arts graduate, was the senior student selected to speak to the graduating class. She offered her own reflections on life as graduates to her fellow classmates.
"You never know where a moment will lead you. But you must be willing to go. The only thing guaranteed is right now," she said. "You are enough. Today is enough. See today. Notice it. Enjoy and marvel in it."
Commencement speaker Dennis Yablonsky, chief executive officer of the Allegheny Conference on Community Development, echoed the importance of the day.
"It's a really special day for all of you. One you will remember for the rest of your lives."
Many people were live tweeting the event. Here are a few of their posts to @PointParkU:


Master's Degree Hooding and Degree Conferral
Point Park also held its master's degree Hooding and Degree Conferral for 236 graduates on Sunday, April 29 at the Sheraton Station Square.
Maria Simbra, M.D., a 2003 graduate of the journalism and mass communication master's program at Point Park, provided the keynote address.