more news
Pompeani Making Connections at Center for Media Innovation
Friday, October 21, 2016
Chelsea Pompeani is working to build connections for Point Park University's new Center for Media Innovation.
As a media innovation specialist, the recently hired Pompeani will run the center's social media sites, while als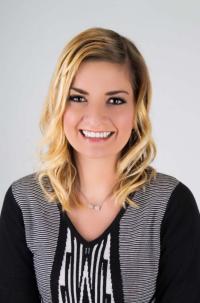 o developing cutting-edge programming for students, journalists and the public.
"We are very pleased to have someone as experienced and talented as Chelsea join our team," said Andrew Conte, the center's director. "She has worked as an on-air professional journalist in the worlds of television and podcasting, and has a depth of knowledge about working with media professionals of all types."
Pompeani was most recently the public and communications director for AAA East Central. Prior to that, she served as a news reporter for WROC-TV in Rochester, N.Y., and WJET-TV in Erie. In her new role, she said her goal is to reach as many people as possible.
"I love making new connections for something I'm really passionate about," she said. "I'm a very outgoing person, and I'm excited to work with students, journalists, high schools and companies to maximize the center's potential."
Pompeani graduated from Point Park in 2011 with a bachelor's degree in broadcasting and a concentration in radio/television.
The Center for Media Innovation features state-of-the art facilities and serves as a laboratory for media innovation. It includes television and radio broadcast booths, a multimedia newsroom and a photo studio. It also opens up into an event space for networking and educational sessions with newsmakers and industry leaders.
More About: broadcast reporting, success story, School of Communication, alumni, Center for Media Innovation