more news
Poverty Simulation Event at Point Park University Makes an Impact on Campus Community
Tuesday, January 30, 2018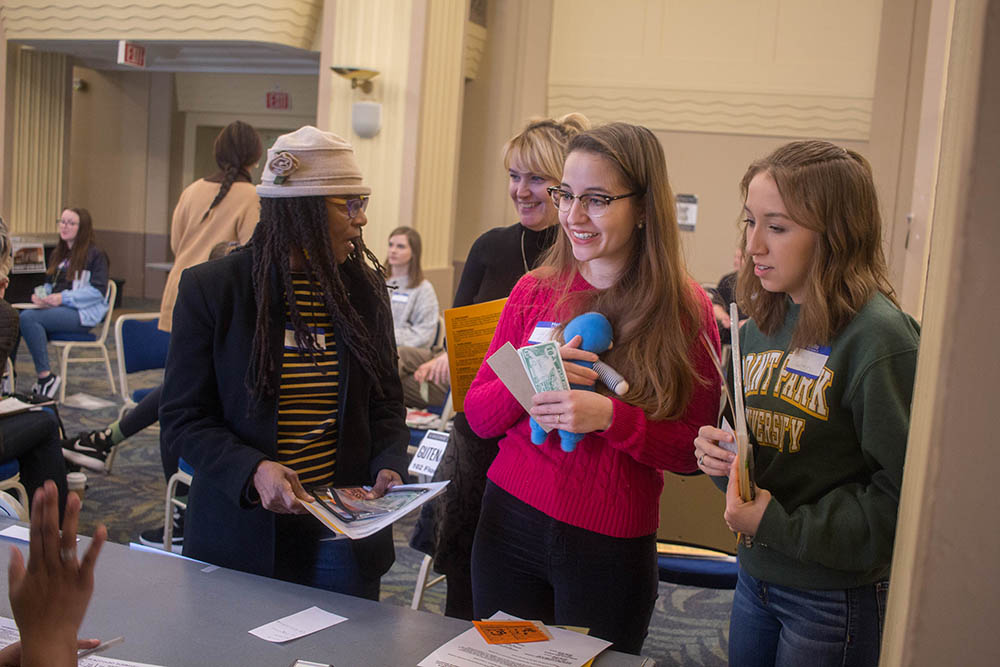 Point Park University students, faculty and staff experienced the hardships endured by low-income families during a poverty simulation event Jan. 19 in the Lawrence Hall Ballroom. 
Tammy Thompson of Circles of Greater Pittsburgh — an organization that helps individuals and families overcome poverty — facilitated the simulation.
"This is not a game," Thompson said. "The main thing we always hope that participants take away from our simulations is a better understanding of what it takes for families in poverty to survive."
How it Worked
Based on real case management files provided by Circles of Greater Pittsburgh, the two-hour event simulated a month in the life of a family seeking food, shelter, health care, education, transportation and other basic necessities.
Participants had 10 minutes to act out each week with access to a variety of services around the room: social services, homeless shelters, mortgage and utility companies, among others.
Diane Falk, a volunteer for Circles of Greater Pittsburgh, represented a community resource during the simulation.
"We're modeling a typical community to illustrate that life just isn't quite the same for everybody depending on resources," Falk said. "If we can bring more awareness to participants today, that's huge."
Impact on Point Park Community
Members of the Point Park community shared what impacted them most as a result of participating in the simulation:
"The seriousness of the different poverty scenarios we were simulating was extremely impactful for me. The event definitely put the reality of poverty into perspective for me. I hope more of these events will be held and encouraged at the University." — Lauren Irvin, resource librarian
"What impacted me the most during the simulation was the fact that we were given a family and put in their situation to survive. It surprised me how hard it was to make ends meet by the end of the month. This experience was very eye-opening to see what people go through every day." — Shaley Barkdoll, freshman funeral service major
"I loved the simulation. It really hit home because I was in a similar situation with my family. The hardest part was communication and still showing the love within the family. I would love to do this again." — Devon Colebank, freshman double majoring in multimedia and business management
Poverty Simulation Photos
Learn More
The poverty simulation was sponsored by Point Park's Department of Community Engagement in partnership with the Honors Program, Center for Media Innovation, School of Communication, Center for Inclusive Excellence, Student Affairs and Department of Psychology.
Photos by Annie Brewer, senior cinema production major
More About: psychology, community engagement, Center for Media Innovation, School of Communication