more news
"Real And World" Marketing Campaign Receives Two CUPPIE Awards
Thursday, May 16, 2013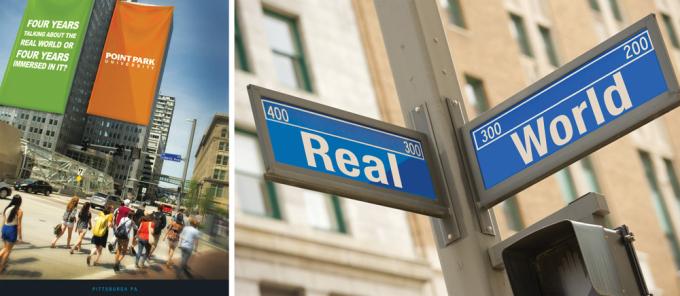 A Point Park University education puts students at the intersection of real and world, for a college experience like no other.
That powerful and distinctive message is the heart of a marketing campaign that recently earned the University accolades among its peers in the communications and education industries, earning two CUPPIE Awards. The campaign was developed by Paskill Stapleton & Lord, a Pennsylvania-based higher education marketing and consulting firm.
CUPRAP, The Association of Communicators in Education, hosted their sixth annual CUPPIE Awards on Thursday, March 14 in Hershey, Pa. The annual event celebrates creative excellence in marketing and communications.
Point Park was honored with a Silver Award for its "Real and World" advertising campaign in the Advertising-Complete Campaign category. The University also received a Gold Award for the "Real and World" campaign in the category of Print Publication.
More than 260 entries were received in various categories from colleges, universities and providers of private, specialized and secondary education in Pennsylvania, New Jersey, New York, Delaware and Maryland. Judges represented experts in the field of communications and included designers, writers, educators, corporate executives and media professionals.