more news
Rivers of Steel Art Exhibition Opens at Point Park University
Wednesday, September 21, 2011
Rivers of Steel at Point Park University art exhibition opens Sept. 22
Rivers of Steel at Point Park University, an art exhibition celebrating Pittsburgh's rich industrial heritage and the intersection of past and present, opens Sept. 22 and runs through Dec. 30, 2011 in the University's Lawrence Hall Gallery.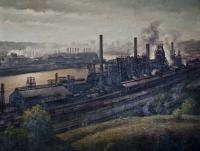 The exhibit features a selection of paintings, lithographs, photographs and sculptures by some of the region's most respected artists, including Aaron H. Gorson, Clyde Hare, John Shryock, Frank Vittor, Robert Qualters, Ron Donoughe and Mark Perrott. The works, which date from more than 100 years ago through today, all draw inspiration from the region's steel industry and working rivers. A number are from the collection of Rivers of Steel National Heritage Area, and as such rarely travel. Other exhibit highlights include two works by Aaron H. Gorson, including "Pittsburgh Mills and Barges at Night," oil on canvas ca. 1903-21, from the collection of The Duquesne Club.
John Tomayko, Ph.D., owner of TomaykoArts and member of the Point Park University Board of Trustees, organized the exhibition.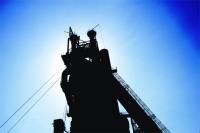 A companion exhibit in the Lawrence Hall Lobby features photographs of the former U.S. Steel Homestead Works' Carrie Furnace site, taken in the spring of this year by students and faculty of a Point Park University digital photography class. The Rivers of Steel at Point Park University photography exhibition in the Lawrence Hall Lobby runs through Oct. 9.
A select number of works in both shows will be available for sale. Lawrence Hall is located at the corner of Wood Street and the Boulevard of the Allies, across from Point Park's new urban green space, the Village Park. Both exhibitions are free and open to the public Monday - Thursday, 8 a.m. - 9 p.m., and Friday and Saturday 8 a.m. - 6 p.m. For more information, call the Lawrence Hall Gallery information line, 412-392-8008.