more news
School of Arts & Sciences, Conservatory of Performing Arts Collaborate to Refresh CSI House
Tuesday, November 14, 2023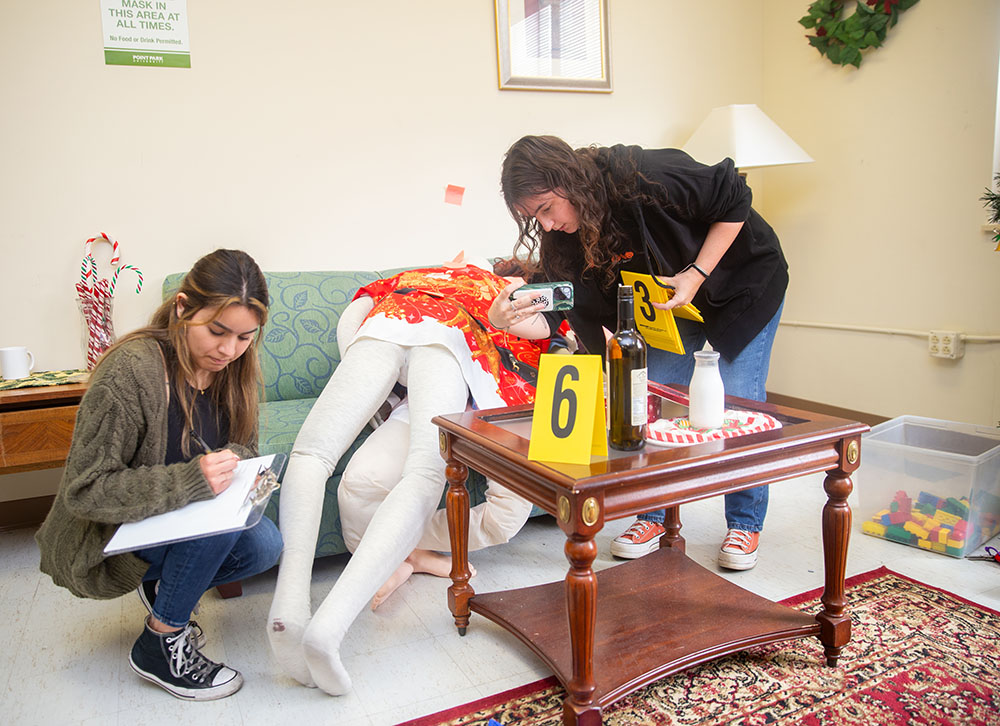 Theatre doesn't always happen on the stage.
This semester, for one group of theatre production students, it happened in the Crime Science Investigation House, Point Park University's on-campus facility in which students stage and investigate crime scenarios as part of their forensic science and criminal justice coursework. Pittsburgh Playhouse Prop Shop supervisors Katie Mikula-Wineman and Jim Utz collaborated with School of Arts & Sciences Dean Josie Brown, Ph.D., and Professor Edward Strimlan, M.D., to give Conservatory of Performing Arts students the opportunity to redecorate the CSI House, refreshing the space that students in the Department of Criminal Justice & Intelligence Studies utilize in hands-on mock investigations. 
The Playhouse Prop Shop first worked on the CSI House in 2013 when Utz was a student at Point Park.
"I always wanted to team up again and see what we could offer for their forensic science students," Mikula-Wineman said. "This collaboration is a perfect opportunity for our theatre production students to practice immersive scenic design and set dressing with props, furniture and personal items."
Much of what Mikula-Wineman teaches in PROD 245 Introduction to Properties is research and how to dress a set to make it look "lived in" by a character in a play.
Dr. Strimlan, a former chief forensic investigator for Allegheny County's Office of the Medical Examiner, gave the theatre production students full reign to come up with the decor. The prop students had some vague concepts and, through a brainstorming session, came up with the real-life objects one might find in such scenes to tell the story.
One scene is a Christmas living room, so the students decked the halls with holiday decor, board games and toys. Another room is a honeymoon resort, stocked with a champagne bucket, rose petals and luggage as if a couple were unpacking to stay on vacation. In the last room, they created a small kitchen with an olive green refrigerator, stove and an array of fake food for students to work with when setting up crime scenes.
"Students collected and gathered all of the items and furniture we needed from the large prop inventory in the Playhouse," Mikula-Wineman said. "We plan to switch out the rooms again next semester, so we look forward to decorating and arranging our next ideas."
For students taking forensic science courses, having a realistic series of spaces to work with makes their learning experiences much more engaging and reflective of the real world. For example, forensic science major Hannah Lanham '25, who interned with Dr. Cyril Wecht and the Fayette County Coroner's Office, said in a recent Q&A that she quickly applied many of the skills she gained in Dr. Strimlan's classes to the work she completed in her internships.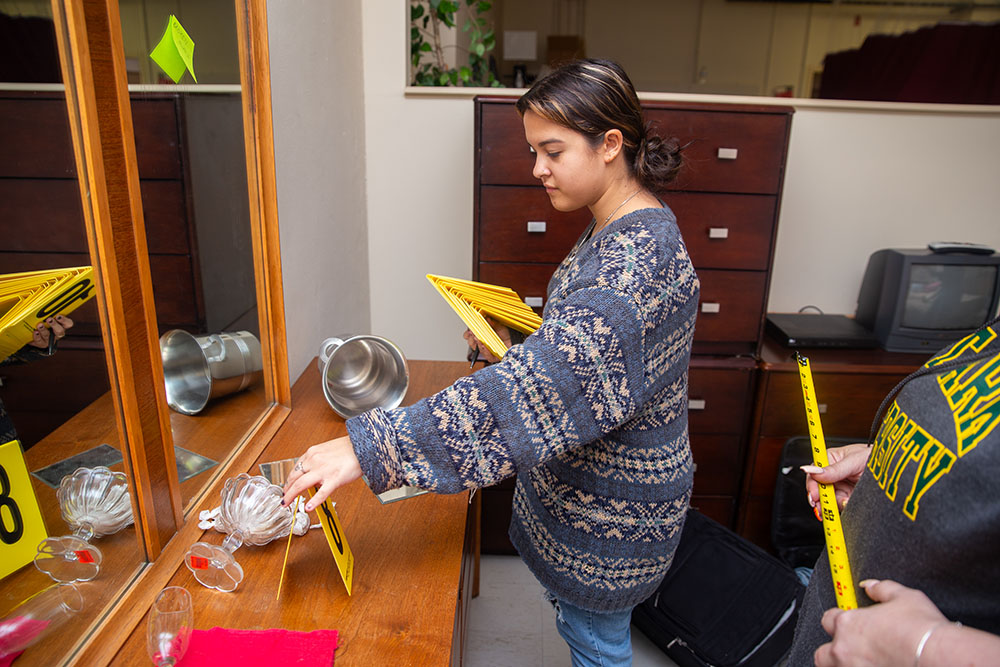 Learn about the students' experiences working in the CSI House and what they like about Point Park below:
View this post on Instagram
View this post on Instagram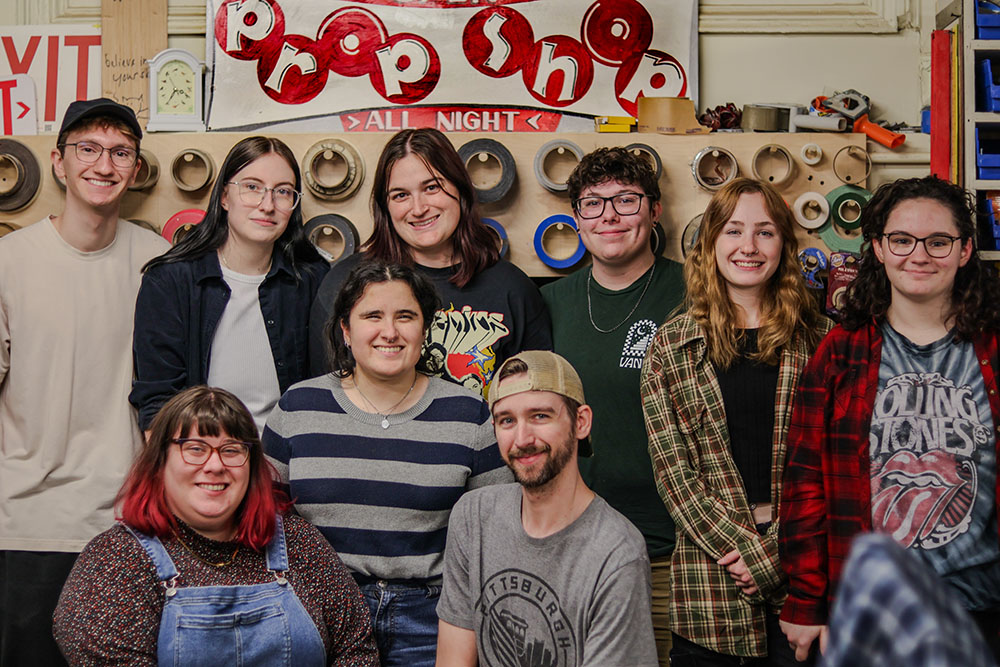 Annie Boothby '27
Major: Theatre Production - Stage Management
Hometown: Pittsburgh, Pa.
High school: Avonworth High School
"Dressing the CSI House was an exciting opportunity that we were all eager to take part in, and we look forward to re-dressing it in the spring. It allowed us to brainstorm our own original ideas and then bring them to life in a short amount of time, which isn't always the case in theatre. We got to play both set designer and prop master in a way. We were excited to exercise our creativity and come up with our own designs and concepts for each room and then make them a reality."
Wren Cannon '25
Major: Theatre Production - Technical Design/Management
Hometown: Mechanicsburg, Pa.
High school: Cumberland Valley High School
"It was a fun opportunity that gave me an insight into how my major can be used outside of the theatre industry. Figuring out what set dressings and props can be used to create an immersive room, without altering the colors of walls and floors. This was a super fun experience, and I can't wait to be involved in future opportunities like this!"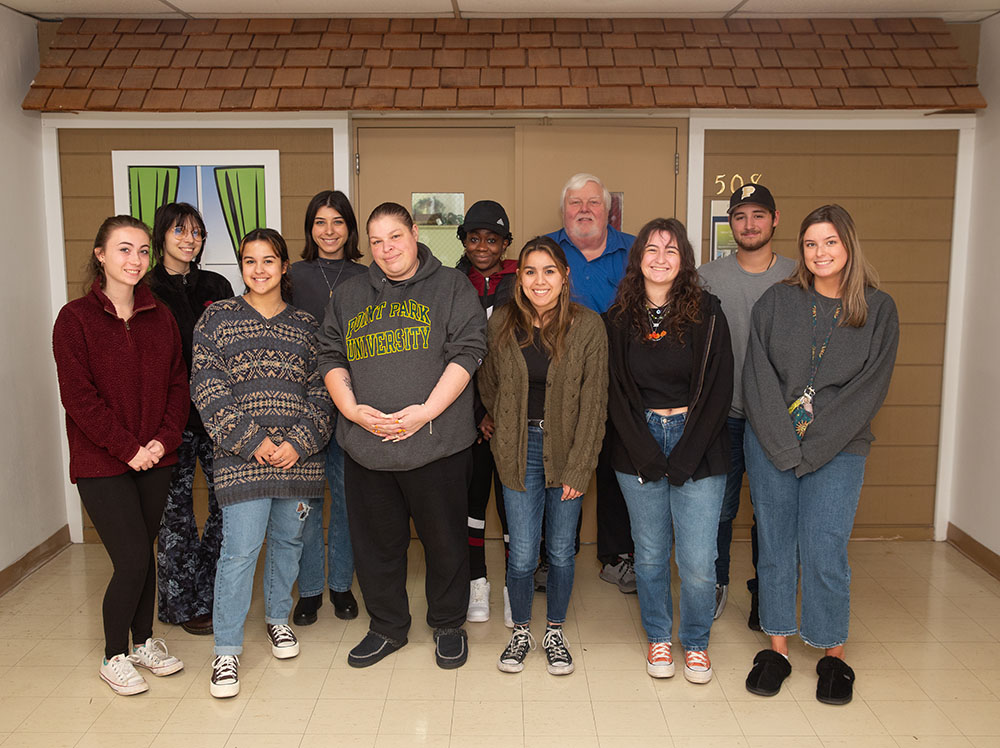 Kaeli Crespo '26
Major: Funeral Service with a minor in Forensic Science
Hometown: Hamburg, Pa.
High School: Hamburg Area High School
"I feel like the updates bring life to the room, especially the Christmas decorations. I like how Dr. Strimlan worked in the field, and in all of his slideshows, he shares stories and images from the real world. I like how interactive Point Park is, and the professors are very welcoming and helpful. They take the time to explain concepts and answer your questions." 
Sydney Alter '26
Major: Forensic Psychology
Hometown: Sarver, Pa. 
High School: Freeport Area High School
"I really like that we can be creative and make whatever kind of story we want. We have food, mannequins, fake alcohol and pill bottles, TVs, clocks, everything. It's fun to move things around and be able to make crime scene sketches so that we can get a taste of what it will actually be like to be a police officer or investigator. This is my first forensic science class, and I like being able to talk to Dr. Strimlan since he has so much hands-on experience and tons of stories. He makes it easy to understand because he has actually lived through all of these experiences. I would recommend Point Park, especially because of the Department of Psychology. It is incredible because it is not focused solely on the science side of things. I love looking into the mind and analyzing it from a humanistic perspective. This is the best environment for me to learn." 
Ginya Lombard '26
Major: Forensic Science
Hometown: Perryopolis, Pa.
High School: Frasier High School 
"I just love how interactive the CSI House is. It's a great thing to have here. When I saw the updates to the CSI House, I felt excited to create my own mock crime scenes in here, because it feels more realistic. I really enjoy the science aspect of it all. I love chemistry and biology. Dr. Strimlan brings his experience from the field to the classroom, which is very helpful. I would recommend Point Park because of its small size. It's a very tight-knit community. The way you can speak with your professors makes you feel more comfortable." 
More About: Pittsburgh Playhouse, criminal justice, theatre, forensic science, faculty, theatre production, Conservatory of Performing Arts, School of Arts and Sciences