more news
Screen Memories exhibit opening in Lawrence Hall Gallery April 17
Thursday, April 2, 2015
Screen Memories, an exhibition of four Pittsburgh-based artists, will open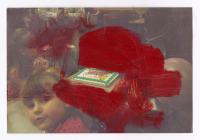 April 17 at Point Park University's Lawrence Hall Gallery.
The exhibit presents works of painting, sculpture and photography that explore the complexities of memory. Each artist demonstrates the challenges of bringing the past into the present, and reveals how memories - like images - blur, fade and change over time.
The Pittsburgh-based artists featured are Atticus Adams, Gavin Benjamin, Elizabeth Rudnick and Travis Schwab. The exhibit is sponsored by Point Park University and The Andy Warhol Museum. Jessica Beck, assistant curator of art at the Warhol, is the show's curator.
There is no cost for admission, and the exhibit can be viewed whenever Lawrence Hall's doors are open.