more news
Seminar Provides Grad Students with Tips on Effective Business Writing
Friday, November 22, 2013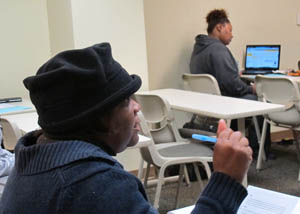 As part of its ongoing lecture series for graduate students, Point Park University's Office of Academic and Student Affairs recently offered a 45-minute seminar on effective business writing led by Edward C. Wachter, Jr., J.D., professor of business management.

Geared for both business professionals and full-time graduate students, the seminar provided attendees with 25 practical pointers on how they can get the best results from their written communications.
Wachter encouraged students to execute one new step a day for 25 business days. Some of these action steps included writing down the purpose of the message, using numbered or bulleted lists and focusing on the two major categories of written communications - conveying data and getting the recipient to take action.

Jennifer Makowski, a graduate student in the M.A./M.B.A. dual degree program at Point Park and a guest services administrator for PNC Financial Services Group, said she found the entire presentation beneficial. "It was truly about getting straight to the point," she said.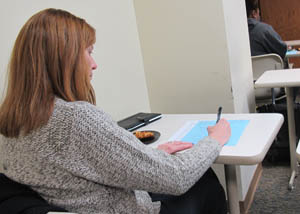 "As a grad student, I absolutely love seminars like this because you can relate what you are learning to your everyday life. Graduate students often have a different approach toward school compared to undergrads. We are here to learn the subject and apply it to our professional lives. I hope to see many more of these seminars in the future," remarked Makowski.
Learn More
View Wachter's "25 Action Steps to Improve Your Business Writing" PowerPoint presentation.

Check out Point Park's career-oriented master's degree programs and learn about the University's graduate admissions process.
More About: graduate programs, student workshop, Rowland School of Business, M.A./M.B.A., faculty presentation