more news
State Auditor General Jack Wagner visits Point Park campus
Friday, February 10, 2012
Jack Wagner, Pennsylvania's auditor general, recently visited Point Park University to tour the Academic Village Initiative with University President Paul Hennigan.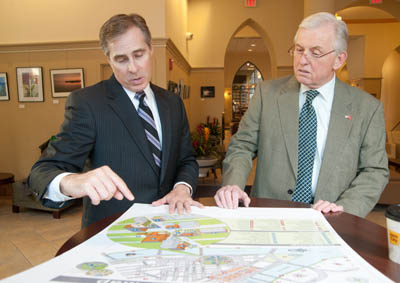 Hennigan updated Wagner on Point Park's progress so far on the $244 million academic and economic development project, which has benefited from investment of state and federal dollars. Hennigan showed Wagner the stunning new Village Park and described the ongoing work on the Wood Street corridor renovations, which include new sidewalks and curbs, street resurfacing, lighting, plantings and pedestrian safety improvements.
The Village Park opened in September 2011 and the new park restaurant, Osteria 100, is scheduled to open this spring. The Wood Street work is expected to be completed in late spring of this year.

As the state's auditor general, Wagner is responsible for protecting how tax dollars are spent and ensuring that government operates efficiently and effectively.

Wagner is no stranger to the University campus. After serving in the U.S. Marine Corps from 1966 to 1968 and receiving a Purple Heart in the Vietnam War, he returned to Pittsburgh and started his road to a college degree at then Point Park College.

Later serving as a member of Pittsburgh City Council, Wagner was an outspoken advocate for the importance of a strong urban core and the impact it has on the Pittsburgh region.

During his visit to Point Park, Hennigan shared with Wagner the University's commitment to providing a quality education in a vibrant, Downtown neighborhood and the University's goal of becoming one of the most dynamic private, urban universities in America.