more news
Students inducted into Alpha Chi honor society at Point Park
Thursday, May 10, 2012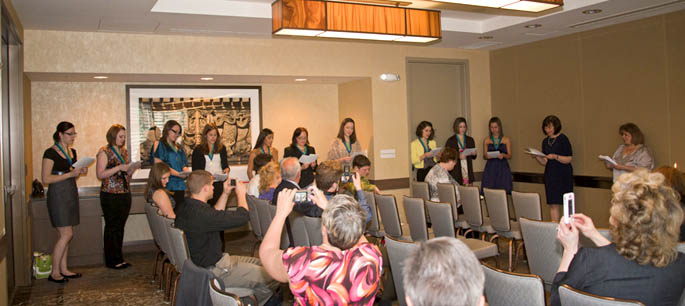 During an April 23 ceremony, 20 Point Park students became members of Alpha Chi National Honor Society in recognition of their academic achievements.
Point Park's chapter of the Alpha Chi National College Honor Society welcomed 20 new members at an induction ceremony held April 23 as part of the University's second annual Outstanding Student Awards evening.
Each of the new inductees recited the Alpha Chi pledge, received a recognition pin and medallion, and signed the permanent roll book. The ceremony took place at the Fairmont Pittsburgh, just blocks from Point Park's Downtown campus.
Chapter sponsors and faculty members Laura Frost, Helen Fallon and Donald Keller conducted the ceremony. Karen McIntyre, Point Park's senior vice president of academic and student affairs, offered congratulatory remarks.
Alpha Chi, founded in 1922, invites the top 10 percent of juniors and seniors at each member institution to join. Students inducted have the opportunity to apply for scholarships and fellowships. Point Park first inducted students into Alpha Chi in 1982.
This spring's inductees and their majors are:
Stephanie Bissonnette, Dance
Kristen Bosworth, PA Cert PreK-4th Special Education
Hannah Burke, Biological Sciences
Juliann Celich, Accelerated Criminal Justice
James Frost, Theatre Arts
Allix Harrington, Dance
Joan Heeringa, Dance
Sienna Hollows, Psychology
David Kish, Intelligence and National Security; Applied History
Sara Mahmood, PA Cert PreK-4th Special Education
Autumn Mitchell, Intelligence and National Security
Nicole Philippe, Dance
Melissa Rauton, Dance
Sarah Rectenwald, Psychology
Amanda Schutzman, English
Deborah Kostrub Scott, Accounting
Corinne Volosky, Multimedia
Hilary Wavrek, Broadcasting
David Zampini, Criminal Justice
Heidi Zbel, Organizational Leadership and Business Administration
Article by Ciera Onley, sophomore journalism major
Photos by Rebecca Warner, junior photojournalism major