more news
Students Observe Martin Luther King Jr. Day
Tuesday, February 4, 2014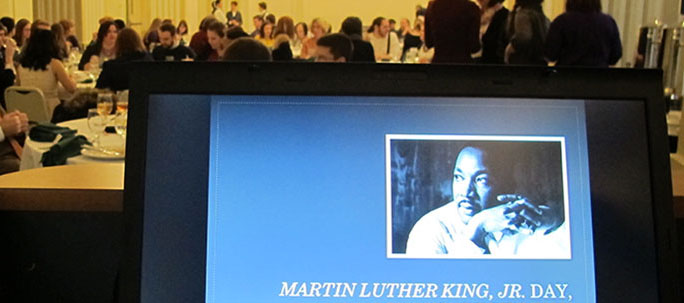 As in past years, Point Park students participated in a variety of events on and off campus to observe Martin Luther King Jr. Day. However, this year's activities carried a special significance because 2014 marks the 50th anniversary of The Civil Rights Act of 1964.
The first event, a Leadership Luncheon hosted by the Office of Student Affairs, gave students, faculty and staff the opportunity to discuss King's legacy while sharing a meal in the Lawrence Hall Ballroom. Leaders from student government and other campus organizations were invited to the inaugural event.
"The goal was to honor Dr. King and highlight some aspect of his life," said Michael Gieseke, senior assistant dean of campus life and organizer of the luncheon. "Each year at the luncheon we will highlight a different issue he fought for, whether that's education or poverty or injustice."
Each attendee was provided with a handout summarizing the Civil Rights Act to help facilitate conversation. Ed Meena, professor of history, welcomed the more than 100 guests and provided brief remarks about the immediate and long-term impact of the legislation.
"Being able to sit at a table and chat with faculty and staff members who could speak to the time and the real-life implications of the bill greatly expanded my understanding," said Dillon Kunkle, a senior biology major and president of United Student Government.
Later that afternoon, a group of 11 Honors Program students travelled to Pittsburgh's East End for the "Share Your Voice" event hosted by The Union Project. The organization's mission is to "connect, create, and celebrate community." Share Your Voice included discussion about solutions for bridging gaps between cultures, creative communication and artistic activities, and a shared celebration meal.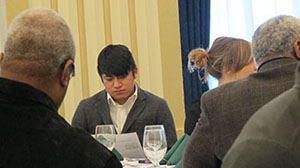 "The Honors Student Organization has been focusing on the themes of storytelling, connection and humanity for the past two years and this event seemed to fit right in," said Casy Stelitano, a junior global cultural studies major. "It was also a great opportunity to meet individuals who studied social science and are now in the professional world."
That evening, approximately 25 students gathered in the University's JVH Auditorium to listen to and discuss "Beyond Vietnam," an hour-long speech that King delivered one year before he was assassinated in 1968. The global cultural studies program organized the evening to raise awareness of what event promotions described as "one of King's most important and relevant speeches." In it, King condemns American warfare, profiteering abroad and the "giant triplets of racism, materialism, and militarism."
Tyler Shoaf, senior global cultural studies student, appreciates the opportunity to attend out-of-classroom learning experiences like the "Beyond Vietnam" event.
"The speech is important not only historically and politically, but also culturally. This kind of exposure is what helps makes a well-rounded liberal arts education," said Shoaf, who chose Point Park for its urban setting and friendly culture on campus.
More About: global cultural studies, Honors Student Organization, Downtown Pittsburgh, Honors Program, Martin Luther King Jr. Day