more news
Students present at Northeast Regional Honors Conference
Tuesday, April 12, 2011
Point Park University honors students attended the Northeast Regional Honors Conference in Portland, Maine, to present projects related to the conference's theme and Portland's motto, "Resurgum," Latin for "I will rise again."
Honors Program Director Helen Fallon and Assistant Director Dr. Laura Frost organized the trip to Portland for 11 students the weekend of March 31. The eventprovided students an opportunity to present ideas in a professional setting and network with other students from across the northeast region.
Carleigh Dettorre, a junior psychology and biology major and the Honors Student Organization president, served as a student representative on the executive committee for the Northeast Regional Honors Council for the 2010-2011 school year. She assisted the committee in all matters regarding the conference and planned specific student-directed activities and events.
Photo Gallery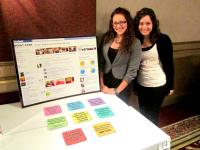 Seniors Faith Cotter, a journalism and mass communications major, and Samantha Bassett, an English and creative writing major, presented papers titled "From Gallows to Hogwarts: Magic in Literature Past and Present" and "Rebirth and Romanticism," respectively.
Dettorre co-presented a poster with junior Ezekiel O'Donnell, a business management major, titled "A Renewed Nature vs. Nurture Debate: In Accordance to the Viewership of Professional Sports, Are Our Brains Constructed Only by Neural Plasticity or Socially through the Media?"
Other poster presentations included "Rebirth of a Student" by sophomore advertising and public relations and digital media major Zoë Sadler and sophomore photojournalism major Rachel Norris; "Facebook: Not Just a Distraction" by sophomores mass communication and secondary education major Richelle Szypulski and advertising and public relations major Erin Druga; and "The Influence of Imperialism on Classical Ballet" by junior journalism major Adelyn Biedenbach.
Sophomores Sienna Hollows, a psychology major, and Alicia Lyons, a broadcast and secondary education major, led roundtable discussions titled "The Pharmaceutical Corporations' Impact on the Psychiatric Industry" and ""The History, Diversity, and Redevelopment of MTV" respectively.
Freshman photography major and honors student Rebecca Lessner had her photograph "Natural Feel" selected for the first Art Walk at an NRHC regional conference. Only 12 were chosen, and this will become an annual activity.
Other activities included the Student Caucus, City-as-Text excursions, Developing in Honors sessions, a creative writing workshop.
Honors Program students and administrators will attend the National Collegiate Honors Conference in Phoenix, Ariz., in October and are already anticipating next year's Northeast Regional Honors Conference in Baltimore, Md.
Text and photos by: Zoë Sadler, advertising and public relations and digital media major