more news
The Point receives 2012 Golden Triangle Award from IABC Pittsburgh
Wednesday, October 10, 2012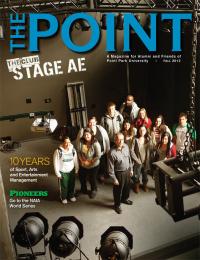 The Point
, the magazine for alumni and friends of Point Park University, received a 2012 Golden Triangle Award from the International Association of Business Communicators (IABC) Pittsburgh Chapter at the organization's annual banquet at the downtown Doubletree Hotel on Sept. 27.
The magazine earned an Award of Honor in the Communication Skills/Magazines category, which measured overall quality, including writing, editing, design etc. Other awardees in this category included magazines from Carnegie Mellon, Duquesne University and PPG Industries. See the complete
list of winners
. The award presentation included a representative comment from the judges, who cited the effective integration of The Point print magazine with web/online content.
The Point online
thepoint@pointpark.edu
Class Note