more news
Two Students Receive Awards at Intercollegiate Broadcasting System Conference
Tuesday, March 30, 2010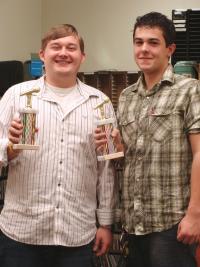 Josh Frketic (l) and Anthony Costulas (r)
Two Point Park University students received awards on March 6, 2010 at the Intercollegiate Broadcasting System Conference, a national gathering of college-based radio stations in New York City. This was the first year that the IBS College Radio Awards recognized outstanding college radio broadcast stations and efforts from the past year.
Anthony Costulas, a sophomore in political science, won the award for "Best Feature Report." Costulas got involved with WPPJ, Point Park's student-run radio station, his freshman year at the University. He began by DJing a political talk show and then moved into the position of assistant news director last fall. He was hired as the station's general manager in the spring.
"I'm not a broadcasting major," Costulas said. "I got involved because it's an awesome way to have two hours of fame and speak your mind."
Junior tv broadcasting major, Josh Frketic won the award for "Best Play-by-Play Coverage." Frketic is the Sports Director for WPPJ and does the live remote radio broadcasts for Point Park athletic events.
"I got involved with WPPJ my freshman year," Frketic said. "I love radio and I really enjoy doing the feeds for games."
WPPJ provides a co-curricular activity for students with an interest in radio, news, sports, contemporary/popular music, media sales and promotions. Participation in WPPJ is open to students of all majors and interests.
Learn more about WPPJ.
WPPJ is on Facebook and Twitter. Get connected!