more news
Urban Land Institute Honors Point Park With Award for Excellence
Wednesday, October 9, 2013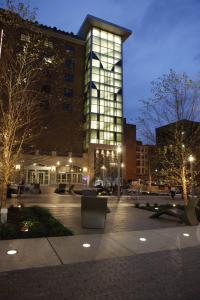 Point Park's Urban Park and Wood Street Corridor enhancement project, part of the University's Academic Village Initiative, has received a top honor from the Urban Land Institute of Pittsburgh - the Award for Excellence, Visual Place. The announcement came at the ULI's Placemaking Awards for Excellence event Oct. 3 at the Fairmont Pittsburgh.
Kyle Prawdzik, director of HFF's Pittsburgh office, presented the award, which was determined through a juried review of 38 submitted nominations.
Prawdzik described Village Park as going "beyond creating a restful urban congregating place to create an iconic statement about Point Parks' commitment to the city and to its students' success. It creates a center for this aggressively growing university's urban campus... metaphorically tying the success of Pittsburgh as an urban place, to Point Park's success and future."
Former Pittsburgh Mayor Tom Murphy was also honored by ULI as the 2013 Inaugral Placemaker. Murphy offered remarks at the event, reminding attendees that "Good enough is simply not good enough." He challenged more than 300 developers, architects and real estate professionals in attendance to pursue excellence in what lies ahead for the city of Pittsburgh.
The following nominees were also honored at the event:
Award for Excellence, Catalytic Place: Market Square Place
Award for Excellence, Community Place: East End Cooperative House
Award for Excellence, Cool Place: Assemble