more news
Village Park Plaque Honors Longtime Downtown Businessman
Monday, December 1, 2014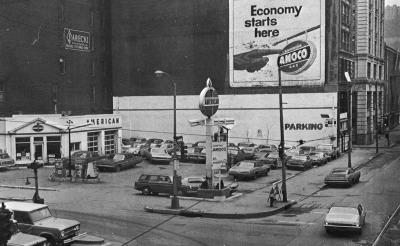 Point Park University President Paul Hennigan was on hand Monday, Dec. 1, to dedicate a plaque in the Village Park recognizing Gene Albert and his Albert's Sales and Service Station.
Albert operated the business from 1953 to 1998 and it was the last gas station to be located in Downtown Pittsburgh. The Albert family sold the property to Point Park in 2000, and it was turned into the Village Park, a cornerstone of the school's Academic Village Initiative.
"Because Point Park was able to acquire this property, we are able to preserve Mr. Albert's dedication to the city and its people while continuing to increase our academic presence in and enhancing the vibrancy of this great Downtown," Hennigan said.
The plaque is located on the Wood Street side wall of the park.